Mr Underbed sells out after John Lewis ad boost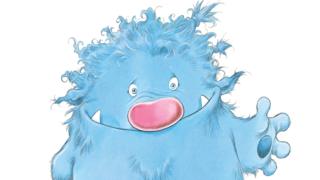 Chris Riddell, who accused John Lewis of "helping themselves" to his book Mr Underbed for its Christmas ad campaign, is enjoying a sales boost.
Riddell's book has now sold out, and so publisher Andersen Press is printing 10,000 more copies.
Both the book and the advert feature a small boy who discovers a giant cuddly monster under his bed.
John Lewis has said its advert's story was "utterly different to Chris Riddell's".
The retailer is also selling a Moz the Monster book based on the advert in its stores.
The extra copies of Mr Underbed will be available from 6 December.
A statement from Riddell's publicity team on Thursday appeared to acknowledge that all's well that ends well.
"The Monster Mash between Mr Underbed, the original big blue unthreatening hairy monster that lives under a little boy's bed - and Moz (from the John Lewis ad) - resulted in the public once again falling in love with the 30-year-old book - and across the kingdom, every last printed copy of Mr Underbed sold out."
Riddell himself said: "I have been so heartened by the wonderful support that my picture book, Mr Underbed, has received after I pointed out similarities with the John Lewis Christmas ad.
"I think this has sent a powerful message to John Lewis who I hope will work more directly with picture book authors in the future."
Riddell's story features a small boy whose attempts to find another place for Mr Underbed to sleep lead to the discovery that he shares his bedroom with various other hidden creatures.
Writing on Tumblr two weeks ago, the popular author said it was "very generous of John Lewis to devote their Christmas advertising campaign to my 1986 picture book... in this age of shrinking publicity budgets".
In response, John Lewis said: "The story of a big hairy monster under the bed which keeps a child from sleeping is a universal tale which has been told many times over many years.
"Ours is a Christmas story of friendship and fun between Joe and Moz the Monster, in which Joe receives a night light which helps him get a good night's sleep."
Follow us on Facebook, on Twitter @BBCNewsEnts, or on Instagram at bbcnewsents. If you have a story suggestion email entertainment.news@bbc.co.uk.