Jennifer Lawrence: 'I become incredibly rude' to avoid fans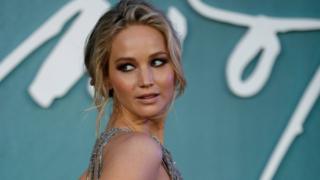 Jennifer Lawrence says she becomes "incredibly rude" to avoid fan attention in public places.
The actress was speaking to fellow actor Adam Sandler in a filmed interview for Variety magazine.
The 27-year-old described how she dealt with being one of Hollywood's most recognisable figures during a conversation with the comedian.
She said her behaviour was intended to "defend" herself from unwanted attention.
"I just, generally, once I enter a public place, I become incredibly rude," the Hunger Games star said.
"That's kind of like my only way of defending myself."
She demonstrated some of the methods she uses to discourage fans if they approach her table in a restaurant, by wagging her finger and pulling a face.
Lawrence also revealed how she bluntly says "no!" if a fan asks for a selfie.
Lawrence, who was the world's highest paid actress in 2015 and 2016 according to Forbes, said another approach is to say: "I'm not working today."
Sandler laughed at the actress's comments, asking her: "You get icy?"
He revealed he was more accommodating to fans, letting them pull up chairs to his table.
The actor joked: "I sit them down, I feed them. I let them hang out with my kids."
He said he sometimes tries to dissuade people from taking selfies with him however, telling them: "You don't want that, man. What are you going to do with it?"
But Lawrence said she thought the attention was worse for comedians, like Sandler, because people "just assume they're your best friend".
She went on to say that she frequently walks her dog in New York's Central Park, but that she gets far more attention whenever she is with her comedian friend, Amy Schumer.
Sandler joked that since his career is nearer the end than Lawrence's, he wanted to make the most of the attention from fans.
"My life's nearing the end," he joked. "I want to meet as many people as I can."
Follow us on Facebook, on Twitter @BBCNewsEnts, or on Instagram at bbcnewsents. If you have a story suggestion email entertainment.news@bbc.co.uk.