How INXS Kick-started their career
By Mark Savage
BBC Music reporter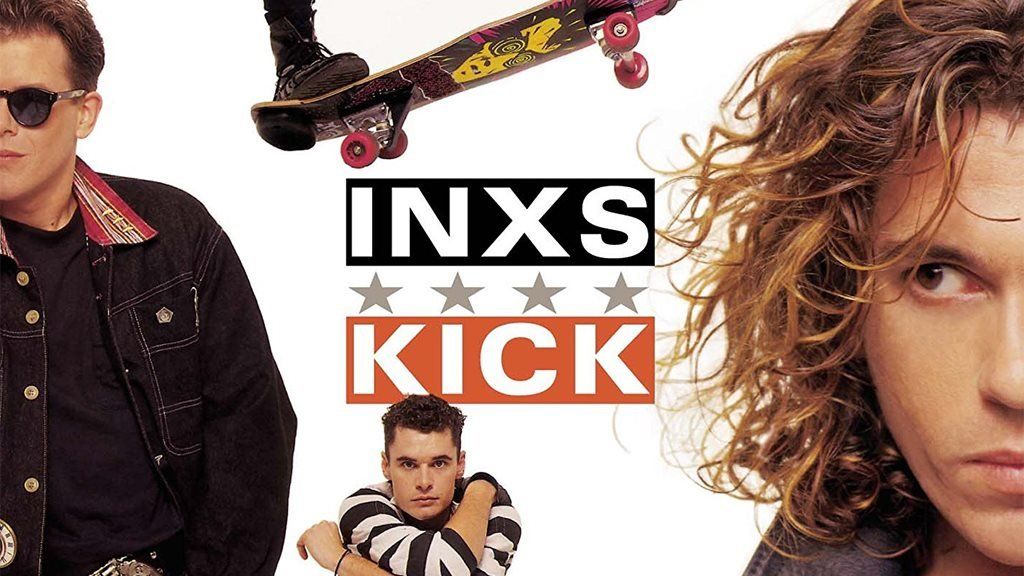 Five albums into their career, INXS had clawed their way up from Australia's pub circuit to the US top five.
But no one was prepared for the success of their sixth album, Kick, a sensuous blend of funk, rock and pop that sold more than 10 million copies worldwide.
Heralded by the slinky single Need You Tonight, Kick finally broke the band in the UK, and made a star of singer Michael Hutchence.
Incredibly, though, their record label initially refused to release the album.
According to the band's manager, Chris Murphy, he had a nailbiting encounter with Atlantic Records president Doug Morris when he first took the album to New York.
"He put his feet up on the desk and closed his eyes from the minute the record went on to the minute it finished," Murphy recalls in the sleeve notes for a new, deluxe edition of the record.
"When it stopped, he said, 'I'll give you a million dollars to go and record another album'."
Luckily, wiser heads prevailed, and Kick produced an enviable four top 40 hits in the UK - Need You Tonight, New Sensation, Never Tear Us Apart and Mystify (a fifth, Devil Inside, narrowly missed the chart).
As the album turns 30, INXS keyboard player and chief songwriter Andrew Farriss looks back at the making of the album.
Nile Rodgers helped them find the funk
INXS started in 1977 as a plucky pub band, with Michael Hutchence joining his schoolfriend Andrew Farriss on stage with his brothers, Tim and Jon. Their early singles fused the swagger of the Stones with the frenetic energy of punk - but they weren't much to write home about.
But by 1983, the band had become obsessed with Chic star Nile Rodgers' solo album, Adventures in the Land of the Good Groove, and persuaded him to work on a song they'd knocked up called Original Sin.
"We recorded that in New York," Farriss recalls. "Nile played guitar, Darryl Hall sang backing vocals and a couple of guys from David Bowie's band put instrumental bits on it as well. No pressure!"
Original Sin gave INXS their first number one in Australia, prompting them to pursue a fusion of pop and funk on their next album, Listen Like Thieves.
The lead single from that album, What You Need, gave the band their first taste of chart success in the US, essentially acting as a dry run for what came next.
"What You Need led to us being very confident on Kick and to say, 'Let's put this on a plaque, nail it to the wall and call it our own thing'," says Farriss.
"Which is really what we did."
Farriss and Hutchence took control of the sessions
Previous INXS albums had featured contributions from all six members of the band. But after the success of What You Need, Farriss informed the others that he and Michael would write all of Kick by themselves.
"It wasn't an aggressive thing," he says. "We were on a tour bus somewhere in Europe and I said, 'Why don't you give Michael and I a crack at doing all the tracks?'
"The idea was that we had tended to write the singles - so why don't we do all the songs and we might get more singles?
"And they said, 'Yes, sure, it sounds like a good idea to us'.
"I'll never forget that because, for Michael and I, feeling like we had that support was a very generous thing."
Mystify could have sounded very different
The deluxe version of Kick contains an early version Mystify that features heavy drum loops and a very different melody - and none of the finished version's sex appeal.
Farriss says this early draft, which he recorded with Hutchence on a tour stop in Chicago, was evidence of a new way of working.
"On that tour we realised that, even though we had these songs we'd been working on, we needed to experiment with them before we got into the studio.
"[But] we actually couldn't afford to have a huge studio full of lavish gear, with people just lying around waiting for us to walk through the golden doors.
"So we went into demo studios, which we never normally did before that. And we were demoing things on the run: 'We've got some time in-between gigs, let's go in and fiddle around with this thing in whatever country we're in'."
Songs were finished in the basement of Sydney Opera House
INXS were insistent that these new songs could be played live before they were recorded so, after reconvening in Australia in late 1986, they hired out the orchestra room beneath the Sydney Opera House.
"I won't lie, it was really, really cool," laughs Farriss. "It's this huge, iconic thing in the middle of Sydney Harbour and we just looked at it and went, 'Yeah, let's go in there!'
"But we'd begun to get a lot more recognised at that point and there's very heavy security around that building, for obvious reasons. So it was just an awesome place to rehearse."
Farriss wrote Need You Tonight in a panic
The first set of recording sessions started on 9 March 1987 at Sydney's Rhinoceros Studios; resulting in the songs Mystify, New Sensation, Never Tear Us Apart and Devil Inside, amongst others.
But the band soon realised they hadn't enough tracks to achieve their ambition of an album where every song was a potential single. So producer Chris Thomas sent Farriss and Hutchence off to Hong Kong to write some more material.
"I think that was a very smart idea because it then gave us the chance to reflect on those initial recordings and work out what songs we might be missing," says Farriss.
But the band's biggest hit arrived in a flash of inspiration, just as the taxi arrived to take him to the airport
"I'm about to leave home when, suddenly, I started playing that riff from Need You Tonight," he recalls. "And I thought, 'Wow - this is ridiculous, I've got to record this!'
"So I asked the cab driver to wait - and he kept honking his horn and flashing his lights and shouting, 'we're going to miss the plane!'.
"But I made it at the last minute - and I had a cassette of the recording. When I got out at the other end [of the flight], I took it straight to the demo studio where Michael was waiting for me and he said, 'that's awesome... let me do a vocal'.
"And the most insane thing was, he put that vocal straight down. It was crazy."
Never Tear Us Apart became a standard
Originally written as a piano-based rockabilly song, Never Tear Us Apart transformed into a grand, dramatic ballad, featuring one of Hutchence's most impassioned vocals.
Unlike a lot of INXS songs, which fall apart when played by another band, the song has become a rock standard and reality show staple.
"There's so many different versions I can't even remember them all," says Farriss. "But there's a couple that stand out to me. Tom Jones and Natalie Imbruglia covered it as a duet, which was incredible.
"And Joe Cocker recorded it. I was always a huge fan of his and I couldn't believe it when he did that. I was just like, 'wow'."
Kick sold by the bucketload
For Atlantic Records, Kick was a hard sell. In the heavily-formatted world of US radio, it didn't work as a rock record, it wouldn't fit on funk stations, and pop radio was wary of harder tracks like Guns In The Sky.
"I think they thought Kick was from outer space," says Farriss. And the album was a slow burn - taking 18 months to really take off on a global scale.
But it became the band's legacy, going platinum eight times in the US and being certified diamond in Canada (by 1990, one in 20 Canadians owned a copy of Kick).
By 1991, INXS were able to sell out Wembley Stadium and, while they had several more top 10 albums, they deliberately avoided repeating Kick's formula.
"Either we were really, really stupid or we just were sonic explorers, but we never went and made Kick again," says Farriss. "We could have done. We knew exactly how to do it. But that's just the way INXS was".
The 30th anniversary edition of Kick is out now.
Related Internet Links
The BBC is not responsible for the content of external sites.