Eurythmics discuss Rock Hall of Fame and going 'into hiding' in the 80s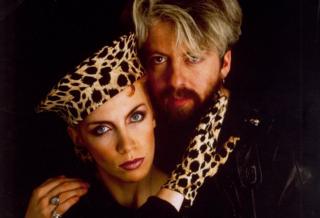 Throughout the 1980s, Annie Lennox and David Stewart challenged the notion of what a pop group could look or sound like.
As the Eurythmics, they spawned smash after smash, from the icy synth-pop of Sweet Dreams (Are Made Of This) to the Motown tribute Sisters Are Doin' It For Themselves.
Their videos were stylish and experimental, with the strikingly androgynous Lennox donning a variety of disguises for the camera.
"I'm very, very critical of myself but I watch those videos and I think, 'Wow, they're really fresh'," says the singer.
"Apart from our pineapple haircuts."
The duo have largely been dormant since the release of 2005's Ultimate Collection album. Then, last month, the Rock and Roll Hall of Fame put them on the shortlist for next year's ceremony.
If they get in, the band would be the first New Wave act to be accepted. But first, they must compete for votes with the likes of Nina Simone, Radiohead, Chaka Khan, Kate Bush and fellow synth-pop heroes Depeche Mode.
"It's a bit overwhelming," says Stewart, on the phone from Los Angeles. "You just think, 'Jeez, I hope we live up to the mark.'"
Vegetarian destiny
The Eurythmics' story begins in 1975, when Lennox served Stewart a plate of cabbage at a vegetarian restaurant in London.
At the time, he was a member of the folk-rock band Longdancer, while Lennox was studying flute at the Royal Academy of Music. Before long, they had formed a new group, The Catch, and started a romantic relationship.
The Catch became The Tourists, a fondly-remembered new wave band who scored a top five hit in 1979 with a cover of Dusty Springfield's I Only Want To Be With You.
When the band split in 1980, Lennox and Stewart decided to continue as a duo, even though their relationship had recently fallen apart - not that this stopped RCA Records from offering to throw them a wedding party on a cruise ship for publicity.
Thankfully, they resisted that suggestion and set about "experimenting in the eaves of a picture-framing factory", with Stewart working through the night as he wrestled with temperamental 80s technology.
Success came in 1982 with the irresistible synth riff of Sweet Dreams (Are Made Of This), setting the band up for a decade-long run of avant-garde pop hits.
"We were shocked when it took off - because the album's pretty weird," says Stewart.
Held hostage
The band soon embarked on a gruelling work schedule that saw them release seven albums between 1983 and 1989, while establishing themselves as an international live attraction.
"We just thought that was what you do," says Lennox. "The whole slog of it all, the bare, gritty hard work.
"We'd drive in the rain for 10 hours sometimes and we got ripped off by people, everywhere."
"Annie once got held hostage above a club in Birmingham," Stewart recalls.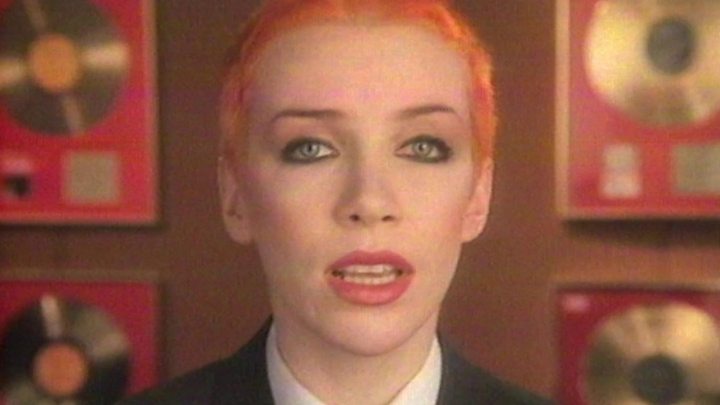 "Me and our roadie were wondering what to do while she was being held captive in the manager's office."
Lennox has somehow blotted out this incident. "I don't remember that! Did that happen? Did that actually happen?!" she laughs.
"Yeah, that happened," Stewart confirms. "There were so many things like that! Scary things.
"There was a time Annie and I were told we'd better leave London because we were witnesses to a racist attack by a gang in the East End."
"It was a terrible assault on one of our friends after a gig," Lennox explains. "By the bouncers, on the pavement."
"We were actually hiding at one point, camouflaged and sleeping on our mate's floor in Leeds; and then at a metal festival, hiding in a tent," Stewart says. "Mad stuff."
But the band's run-ins with crime didn't end there.
"The industry was riddled with strange corruption," says Stewart. "It was gangster-land."
He recounts a strange encounter in New York after finishing the Eurythmics' fourth album, Be Yourself Tonight, in 1985.
"It was going to be huge, with songs like Would I Lie To You," he says. "Then the head of our label in America changed and he came from Hertz Rent-A-Car.
"I remember thinking, 'Blimey, that's weird. What does he know about music?'
"Anyway, he shook my hand when I delivered the album and he says. 'Stewart, I love it. It's just like Ghostbusters!'
"And I was like, 'Ghostbusters? What are you talking about?'"
The executive went on to explain how he would market Touch as if it was a blockbuster film. Part of his plan "was to put our picture on the top of Coca-Cola vending machines".
Needless to say, his tenure at the top didn't last long but Stewart "always wondered" what became of him.
"Then one day I was watching the TV and there was a trial because his own sons murdered him and his wife Jose Menendez. That was the guy."
"That's so weird," says Lennox.
"Weird people. Weird stories. Things that you couldn't write."
If there was an upside to this chaos, it was that bands like the Eurythmics were largely left to their own devices.
"Dave and I are experimenters. All we wanted to do was be different and sound different," says Lennox.
So Sweet Dreams incorporates the sound of milk bottles being bashed together for percussion; while The City Never Sleeps features Stewart's dictaphone recording of the London Underground.
"I think the oddest thing was making my mother stamp on the gravel on the roof of a Paris youth club for I Love You Like A Ball And Chain," he says.
"My poor mum. She was stamping away and, every so often, somebody would run up and go, 'A bit more, a bit more'.
"She was bright red and exhausted - but when you hear it on the track, it sounds amazing."
Music fans who've missed out on the band's back catalogue will have a fresh chance to hear it next year, when the Eurythmics' eight RCA studio albums are re-released on vinyl.
To trail the release, remix artist DJ Earworm has created an 11-minute mash-up of the band's biggest hits.
"It's really, really good," enthuses Stewart. "It's a very difficult thing to do because every song is a different tempo. They're all over the place. But he made it work."
Seeing the videos again also made Stewart keen to raid the Eurythmics' archives.
"I'm trying to get all the rushes at the moment," he says. "I'd love to have the film of the cows in the field from Sweet Dreams."
Lennox laughs: "Those cows were impossible to direct!"
On a more serious note, Stewart is trying to track down the master tapes for Sweet Dreams - which were misplaced as RCA Records changed hands over the years.
He remembers making "about 60 weird experiments" before arriving at the single's final arrangement "and some of them sound extremely modern".
"I'd love to get that tape back. If a band came out today with some of those backing tracks, you wouldn't say, 'Oh, that sounds like it was made in 1981'."
Dream collaboration
If anything, that song will be the band's legacy. It's been played 177 million times on YouTube - more than all their other hits put together.
And, if they make it into the Rock and Roll Hall of Fame, that's the one they'd like to play with their fellow inductees.
"You can do it in every single conceivable genre," says Lennox. "So you have rock and roll Sweet Dreams, gospel Sweet Dreams, then you do electro Sweet Dreams, folk Sweet Dreams, heavy metal Sweet Dreams!"
"I actually performed it live with a ukulele," interjects Stewart.
"And I play it like a bossa nova on the piano," says Lennox.
"So it could be something fabulous. Everybody can join in, and they can all riff on it. That is how you do it."
The Eurythmics' albums will be re-released on vinyl in 2018, and are available to pre-order now. You can vote for this year's Rock and Roll Hall of Fame nominees on the official website.
Follow us on Facebook, on Twitter @BBCNewsEnts, or on Instagram at bbcnewsents. If you have a story suggestion email entertainment.news@bbc.co.uk.