Illustrator Chris Riddell accuses John Lewis over Christmas ad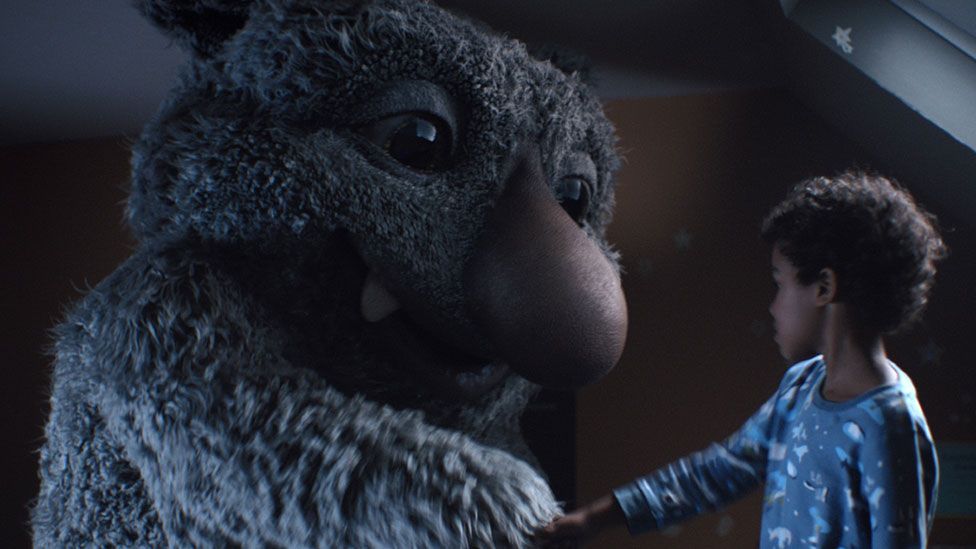 John Lewis has been accused of copying a 1986 book by former Children's Laureate Chris Riddell in its latest Christmas advert.
Writing on social media, the illustrator accused the retail giant of "helping themselves" to his book Mr Underbed in its festive campaign.
Both feature a small boy who discovers a giant cuddly monster under his bed.
John Lewis responded by insisting "the main thrust" of its advert's story was "utterly different to Chris Riddell's".
It said: "The story of a big hairy monster under the bed which keeps a child from sleeping is a universal tale which has been told many times over many years.
"Ours is a Christmas story of friendship and fun between Joe and Moz the Monster, in which Joe receives a night light which helps him get a good night's sleep."
Riddell's story features a small boy whose attempts to find another place for Mr Underbed to sleep lead to the discovery that he shares his bedroom with various other hidden creatures.
Writing on Tumblr on Thursday, Riddell said it was "very generous of John Lewis to devote their Christmas advertising campaign to my 1986 picture book... in this age of shrinking publicity budgets".
The author and illustrator said he was not interested in "a protracted and arcane legal action" but was merely concerned with having "the issue of accreditation" highlighted.
"Going forward, it's important that young creative people have their work credited in the proper way," he told BBC News.
The writer conceded that the advert's plot was "different to the underlying story in Mr Underbed" but still said he felt there were clear parallels.
"What piqued my interest was that the actual premise was remarkably similar," he said. "There are similarities there and I was just pointing that up."
His accusations attracted support from fellow author Frank Cottrell-Boyce, who likened John Lewis to "grinches [that] nick something from under the spreading tree of other people's creativity".
The John Lewis advert was created by advertising agency adam&eveDDB, is directed by Michel Gondry and features a cover version of The Beatles' Golden Slumbers by Elbow.
Brighton-based Riddell was the ninth Children's Laureate, holding the post between 2015 and 2017.
The 55-year-old is the creator of the award-winning Goth Girl novels, a three-time winner of the Kate Greenaway Medal for illustration and The Observer's political cartoonist.
Related Internet Links
The BBC is not responsible for the content of external sites.