Taylor Wessing prize: Teenage migrant portrait wins photography award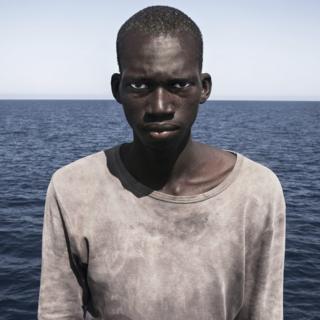 A hard-hitting picture of a 16-year old migrant has won a prestigious photography prize.
The photograph of Amadou Sumaila was taken moments after his rescue while attempting to cross the Mediterranean Sea in August 2016.
Cesar Dezfuli was named winner of the Taylor Wessing prize for the image - taken 20 miles from the Libyan coast.
The Spanish photographer received the prize and awarded £15,000 in a ceremony at the National Portrait Gallery.
The judges said: "Against the balance and precision of Dezfuli's composition, the directness of Sumaila's gaze is striking and unsettling. The portrait powerfully conveys his loss, solitude and determination."
Sumaila has since found temporary accommodation in a reception centre for migrants in Italy.
The second prize went to British photographer Abbie Trayler-Smith for her image of a girl on a bus in the Iraqi city of Mosul, as she was fleeing from the so-called Islamic State.
The shot of the young woman was taken as a convoy of buses arrived bringing people to the safety of the Hasan Sham camp in northern Iraq.
Trayler-Smith said: "I just remember seeing her face looking out at the camp, and the shock and the bewilderment in her's and other's faces and it made me shudder to imagine what living under Isis had been like."
Third prize went to Finnish artist Maija Tammi, who photographed an android, as part of her One Of Them Is A Human #1 series.
The project presents androids alongside one human and asks questions about what it means to be alive.
The judges said the ambiguity over whether or not the subject was human made the portrait "particularly compelling", adding that the portrait "offers a provocative comment on human evolution".
The Taylor Wessing Photographic Portrait Prize has been running since 1993. This year it attracted 5,717 entries by 2,423 photographers from 66 countries.
The winning portraits will be on display at the National Portrait Gallery from November 16 to February 8 2018.
Follow us on Facebook, on Twitter @BBCNewsEnts, or on Instagram at bbcnewsents. If you have a story suggestion email entertainment.news@bbc.co.uk.