Justice League: Laying bare the row over 'skimpy' costumes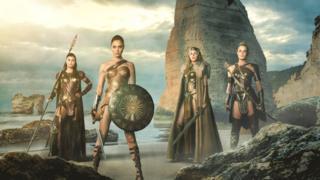 Superhero film Justice League has attracted controversy before its release after some fans complained that the female Amazon outfits seemed skimpier and less military than those worn by the same characters in the recent Wonder Woman film.
Justice League features five superheroes - Aquaman, Batman, Wonder Woman, The Flash and Cyborg - who have to save the planet with the help of the Amazon warriors.
Gal Gadot returns as Wonder Woman, following her leading role in Patty Jenkins' hit film earlier this year.
You might recall the Amazons in Jenkins' Wonder Woman film, wearing costumes seemingly inspired by Greek/Roman warrior culture. Think armour-plated bodices, shin pads and metal wrist and arm cuffs.
Now, tweets comparing them with an image of the Amazons in Zack Snyder's upcoming film - in which they look somewhat different to those in the Wonder Woman movie - have caused people to become quite heated on the internet.
Some have questioned why the women in the Justice League photo (on the right in this tweet) aren't wearing protective body armour.
Actress Jessica Chastain wrote: "Hey men, what would you wear to fight? Hint: dont expose your vital organs. Ugh I miss @PattyJenks"
Others also used Twitter to voice their disapproval:
But other people pointed out that Amazons did wear bikini-style outfits as their training costumes in Wonder Woman, and that their appearance in Justice League dates from a different prehistoric era.
It was also remarked that plenty of people commenting haven't seen the film yet to know the context.
Some of the actresses who play Amazons have had thoughts of their own on this topic. Brooke Ence, who plays the Amazon Penthiselea in both films, commented that the change "didn't bother me at all".
Speaking to USA Today, Ence (left in the below picture) said "the girls on set never thought of (the new costumes) as a sexy version".
Samantha Jo, who stars as the Amazon Euboea, shared a lengthy response to the controversy on Twitter. She praised director Snyder and costume designer Michael Wilkinson for making her feel "empowered".
Referring to the more streamlined costumes, she wrote: "Amazonian fighting is a little more acrobatic and larger than life requiring armour that allows for that kind of articulation in the body."
In fact, she went further and said she was "overjoyed" at the lack of body armour, which meant she avoided the "chafing, scrapes, pinched and bruised skin" she obtained while filming Wonder Woman.
'Lithe and sporty'
Patrick Whitaker was creative supervisor of costume armour on Wonder Woman, working with costume designer Lindy Hemming.
He is currently preparing an exhibition of items made by his costume and fashion house Whitaker & Malem, which opens at The Gallery in Liverpool on Friday.
Whitaker says it's not simply the case that a female director and female designer created the outfits for Wonder Woman, and a male director and male designer then made them more revealing for Justice League.
Justice League costume designer Michael Wilkinson had the same job on last year's Batman v Superman: Dawn of Justice - which featured Gal Gadot's debut as Wonder Woman.
Whitaker says Wilkinson and Hemming sketched out the Amazons' costume designs together "so there would be a consistency of style" across all the films. And they did so before Patty Jenkins joined Wonder Woman as director.
Whitaker says Jenkins "did have strong views about the costumes", but was happy with the designs that already existed before she got involved.
There were two types of Amazon costumes in Wonder Woman - battle armour and the more revealing training outfits.
"It's not that the torsos weren't exposed at some point [in Wonder Woman]," Whitaker says. "The training armour was supposed to be more lithe and sporty."
The difference between Wonder Woman and Justice League, he believes, is that the scenes in the new film are meant to be set many years before those in Wonder Woman, so the warriors wouldn't have had proper body armour.
"There are logistical reasons those costumes are different and somewhat skimpier, and that's because it's set in an earlier time in [Wonder Woman's home island] Themyscira, when it's a slightly more primitive society," Whitaker says.
"I think there's been a certain amount of misinformation."
Warner Bros Pictures didn't respond to a request for comment.
Sexy vs sexualised
Melissa Silverstein, founder and publisher of Women and Hollywood, tells the BBC there are concerns about how women are depicted in film.
"There's a difference between sexy power and sexualised power - you don't need a bare midriff to be sexy," she says. "Women can be powerful without being sexualised."
She says the images from Justice League remind her of Princess Leia's gold bikini in Return of the Jedi.
"Justice League has a different director, a whole different look [to Wonder Woman] with its four leading males and one leading female," Silverstein adds.
"But people want to see more Gal Gadot after Wonder Woman, not more Ben Affleck as Batman."
'Tipping point'
Emma Jones, founder of the women in film website Electra, says the social media reaction may have been so vocal because women have got fed up with seeing objectification - and are quick to call it out in the current climate.
"In both films, the Amazons are displaying a fair amount of flesh," she says. "Wonder Woman herself has her body on display in her Wonder Woman costume throughout Jenkins' film.
"The issue here is really the anger that many women within the industry feel at having been sexualised for so long within film-making.
"It's a tipping point, where many women are calling out what they see as unfair, sexist behaviour wherever they think they see it.
"Wonder Woman's target audience was firstly young girls, Justice League's is young men and teenage boys.
"I think we're going to see a lot more 'calling out' even when the argument seems pointless to some critics - perhaps until women feel the balance of power may have shifted."
Justice League opens in the US and UK on Friday. Whitaker Malem Pop-Artisans runs at The Gallery, Liverpool, from 18 November to 10 December.
Follow us on Facebook, on Twitter @BBCNewsEnts, or on Instagram at bbcnewsents. If you have a story suggestion email entertainment.news@bbc.co.uk.