MTV EMAs: What we learned on the red carpet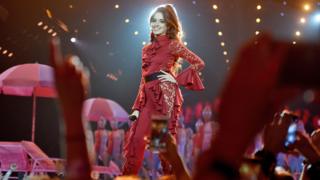 It was good news for fans of MTV, Europe, music and awards ceremonies on Sunday night as the MTV Europe Music Awards took place at London's Wembley Arena.
You've probably already seen the winners list and watched the performances - but there's some other stuff you might not have heard about.
Such as James Bay's fashion makeover and Stormzy accidentally using the ladies' loos.
Here's our red carpet round-up.
---
Liam Payne
When we spoke to him, Liam had just discovered his performance was scheduled straight after Eminem's.
"That makes things slightly harder," he said. "Eminem's was one of the first albums I genuinely used to rock out to on my bed when I was a kid."
He hadn't heard about the night's most important story, though: Stormzy accidentally getting trapped in the ladies' toilets backstage.
"Maybe he thought it said Laddies instead of Ladies," Liam said, before adding apologetically: "That was a Dad joke. Good to finish on."
Could Liam see himself and the other One Direction lads still performing at awards ceremonies like this a few years (or decades) down the line?
"Who knows? We might be like the Rolling Stones, just rocking out."
Referring to Mick Jagger, who recently became a father again at the age of 73, he added: "Maybe I'll still be having babies then.
"There's your headline tomorrow!"
Anne-Marie
"I'm nervous as hell," said Anne-Marie, using a slightly stronger word than hell which we can't print here.
"Wait, this interview isn't live is it?" (No, thank goodness.)
Having successfully avoided an Ofcom fine, the singer continued: "I'm not nervous about the performance, when it comes to singing I've got it down, but when it comes to the rest of it, I'm bad at that."
The singer, whose hits include Heavy, Ciao Adios and the Clean Bandit-assisted Rockabye, is currently gearing up for the release of her debut album.
"My music is constantly changing because I am. I'm writing it and changing as I'm writing," she said.
"So there's going to be a lot of different subjects on there that I talk about, I'm putting my life into it, so I hope people like it."
James Bay
It's been a while since we've heard from pop's premier enthusiast, James Bay.
But, scandalously, he made his way down the red carpet without his trademark headgear and said he'd ditched it as part of an image change.
"You know what? It was time. I was done," he said. "Everybody's got to evolve [so] here I am switching it up doing something else,
"I think we've all got to embrace that in each other. And it feels great, like it's time for a whole new thing for me."
With all this hat talk we almost forgot to ask about how his actual music is going.
"I'm hungry to get back to playing, I've got loads of new music now that nobody's heard yet," James said.
"I've managed to make 99% of 2017 about making new music, so I'm basically ready to show everybody, just making those final tweaks, and then I'll be back."
Sabrina Carpenter
Sabrina Carpenter set admirably simple goals as she traipsed the red carpet at Wembley Arena.
"I just don't want to trip. I've been halfway down the carpet already so I'm off to a good start," she told us.
The singer said she's excited about new material she's working on - but was tight-lipped about the collaborations she has lined up.
"The response to [her latest single] Why has been incredible, and I've been writing my third album, so that's why I'm here. I've been in Sweden, London and Norway writing so I'm excited.
"I'm definitely collaborating with some really cool people. I'm always up for changing and growth and trying new things. So you're definitely going to hear some new sounds, whatever they are, on the new album. There's already some that I'm really excited about."
Any hints about who those duets might be with?
"No! That would spoil it. I can't spoil it. You'll see a very cryptic Instagram at some point and then you'll be like 'It's coming!'"
Ray BLK
With the BBC preparing to announce the longlist for the prestigious Sound of 2018, Ray BLK reflected on what topping this year's did for her career.
"I'd say it's definitely helped me with more exposure," she said.
"My advice to anyone in this year's list would be keep on doing what you've been doing before, stay focused, and don't get lost in the noise."
Donae'O
While watching Strictly Come Dancing with a takeaway might be our idea of a perfect weekend, Donae'O's included performing at 1Xtra Live on Saturday night before attending the EMAs on Sunday.
"1Xtra Live was really special, there was something in the air. Everything just really came together well," he said.
On the topic of red carpets and awards ceremonies, he said: "All of this is new to me, but I'm enjoying it.
"I've been on the underground for, like, 16 years so this is a new experience. I used to see people do this stuff on TV. And it's a bit scary, but it's new, and you should always try new things out.
"I like to face my fears, because once you get over those things you start enjoying them. If I can enjoy it now, when you get older you have great memories."
Might get that printed on a tee.
Clean Bandit
Ahead of their set at the ceremony, Grace Chatto explained: "It's the biggest performance we've ever done, and we've got lots of extra violinists and drummers joining us in lots of crazy outfits."
For their three-song medley, they brought out Anne-Marie, Julia Michaels and Zara Larsson - the guest vocalists on their three biggest singles this year.
"They're meeting altogether for the first time, so the rehearsals have been really fun," Grace said.
So, having made Christmas number one last year with a refreshingly non-Christmassy song, could they do something more festive-themed in the future?
"I'd really like to do a Christmas song. It's too late though, we'll have to do it next year," said Jack.
"We've got a Christmas version of Rockabye actually but we're not allowed to use it, because it's too funny."
Yeah, we're going to need to hear that version at some point.
---
Follow us on Facebook, on Twitter @BBCNewsEnts, or on Instagram at bbcnewsents. If you have a story suggestion email entertainment.news@bbc.co.uk.