Meet Muna: The 'queer pop' band who caught Harry Styles's eye
By Mark Savage
BBC Music reporter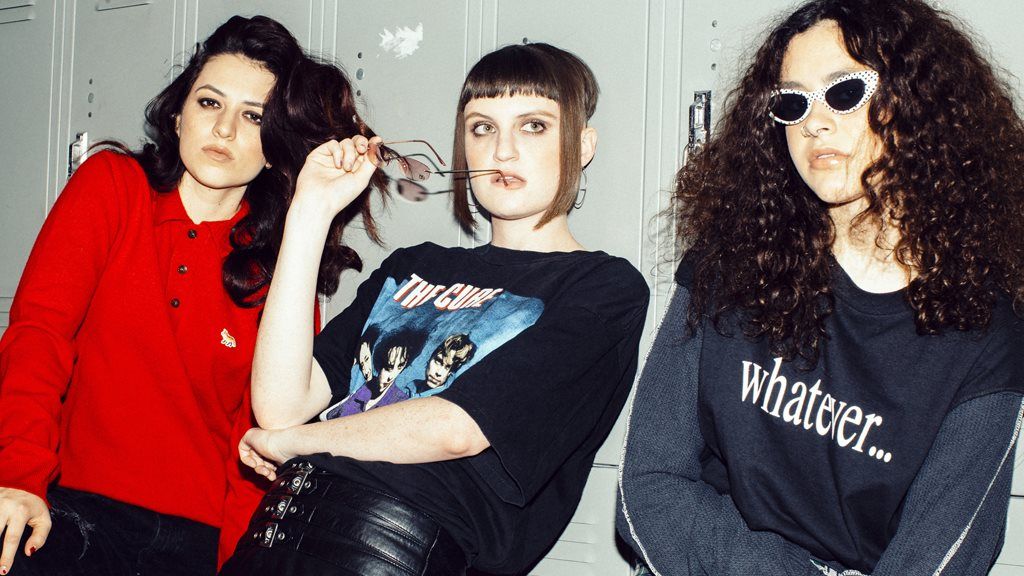 Since September, pop band Muna have been setting the scene at Harry Styles's solo gigs.
The trio, who identify themselves as a "queer band", were hand-picked by the singer after he fell in love with their debut album, About U, for its messages of inclusivity and acceptance (oh, and also the amazing, arms-aloft choruses).
It's fair to say the band were stunned.
"It was funny," says guitarist Josette Maskin. "I'd never really thought about Harry Styles too much - but the week he asked us to go on tour, we'd been listening to Sign Of The Times and spoken about him a lot.
"His vibe was in the oeuvre of our lives and then this happened."
"The 'oeuvre of our lives??!'" cackles her bandmate, Naomi McPherson "Josette!"
When we speak, Muna are on a day off from Styles' tour, preparing for their own, Hallowe'en-themed, headline show at London's Heaven Nightclub.
They're sparkling company, painting each others' nails black and decanting mini Mars bars into a plastic bag which, later that night, will be flung into the audience during a cover of Michael Jackson's Thriller.
"I love being an opening act," enthuses singer Katie Gavin, "but playing for our fans makes me feel like I'm getting recharged to carry our message to people who haven't heard us."
The last two months have been an eye-opener for the band, who quickly came to appreciate the passion of Styles's fans.
"I had no idea how visceral this experience is for some of them," says Katie. "They pass out, out of being overwhelmed by being in the same room as him."
"I don't think we realised until we started that every night is a night thousands of people have been waiting for," adds Naomi.
"It's so cool for us to be part of that."
Muna formed at the University of Southern California in 2013, bonding over their shared love of '80s funk-pop - Janet Jackson, Chaka Khan, Talking Heads, Prince.
"She's our mentor," says Josette. "She has the funk."
"She is the funk," corrects Katie.
Rushen gave Muna a hand as they self-produced their first album - adding a bell part to the shimmering break-up song Winterbreak, for instance. But the group take a more political stance than the artists who inspired them.
And their electrifying signature song, I Know A Place, is "about the rich LGBTQ history of turning bars and ballrooms into safe havens".
Although it was written before the nightclub shootings in Orlando last year, it has taken on added resonance since.
"It's interesting, because the song deals so much with imagination and hope - but there's a downside to that, which is not seeing these things coming, not being prepared when they happen," says Katie.
"But then, thank God we had a song for it, do you know what I mean?"
"Everything that's happened is so terrifying, but at least people have found some kind of solace in something we made," adds Josette.
Performing on Jimmy Kimmel's US TV show this January, I Know A Place mutated again when Gavin added new lyrics addressing Donald Trump's travel ban.
"Even if our skin or Gods look different, I believe all human life is significant," she sang, as her bandmates muted their instruments.
"I throw my arms open wide in resistance. He's not my leader even if he's my president."
"It was actually more positive than the crazy hate," says Katie.
"The only reaction that I had, other than being impressed and proud of Katie, was I saw someone had made it into a gif," Naomi laughs.
"I was like, 'We're a gif now! We've made it!'"
If you're thinking Muna's message is stronger than you'd normally expect at a Harry Styles gig, you'd be right.
But the band think they were chosen for a purpose.
"He's using us as a way of saying something without actually saying it, which is actually very smart," says Naomi.
"We are so happy to be a queer band and invite our audience to explore queerness, and I think he's kind of the same," adds Katie.
"Having us on the tour was like an invitation."
Meanwhile, the former One Direction singer has echoed Muna's politics in his own set.
On the opening night in San Francisco, a fan threw a rainbow-coloured Pride flag onstage, which Styles has had wrapped around his microphone stand ever since.
Playing in London last Sunday, the star told the audience: "Please feel free to be whatever it is you want to be in this room," and encouraged everyone to "find someone you don't know and embrace them".
Styles's fans have embraced Muna in a way they never expected. Their Twitter followers have doubled, and audiences have actually been paying attention to their songs.
"They're very open listeners," says Naomi. "There's a lack of entitlement that I've seen, at least, as opposed to crowds in other places. "
"It feels like the first time we're on tour. Everything's very intriguing and interesting," adds Katie.
"And there's so much bread in Europe!" laughs Josette.
"I've eaten more pastries this week than I have in the last two years combined."
When the European leg of the tour ends next week, Muna will head back to LA to work on their second album.
"We want to make 'an album,'" says Josette. "Even though no-one gives a stuff about albums any more."
"Yeah, I don't know how much of a pipe dream it is to expect people to listen to an album any more," says Katie.
"I think we're romantics in that sense. Because we want to be somebody's favourite band. And, so far, people have been quite obliging."
Related Internet Links
The BBC is not responsible for the content of external sites.