Maxine Peake: Why Big Lil is a better role model than Kim Kardashian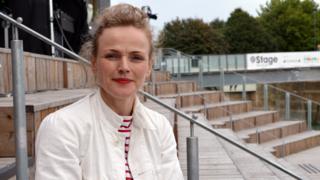 She's known for her acting on stage and screen, but Maxine Peake has another career - writing plays about fearless women who overcame the odds in a man's world.
It took four policemen to physically hold Lillian Bilocca back when she tried to stop a trawler leaving port in Hull in 1968 at the height of her campaign for safety at sea.
Three ships and 58 lives had just been lost and emotions were high.
"Big Lil" was a fishwife, and her husband, father and son all worked on the trawlers.
She had had enough. She tried to board under-manned ships to prevent them from departing and took a petition with 10,000 signatures to the government.
For their efforts, she and her fellow "headscarf revolutionaries" were met with disdain, misogyny and even death threats by some Hull men and trawler owners. She was blacklisted and never worked in the fishing industry again.
But the campaign worked. The law was changed, and lives were undoubtedly saved.
Bilocca is the heroine of Maxine Peake's latest play The Last Testament of Lillian Bilocca, which opens in Hull next week.
"It felt an important story to tell," the actress and playwright says.
"It's about women putting their head above the parapet, and she did get punished for it by the community."
One of Britain's most sought-after performers, Peake has starred in TV dramas including Shameless, Silk and Three Girls, and films like The Theory of Everything.
But she also has a burning desire to tell her own stories - mostly about unsung British heroines whose achievements have been swept under history's carpet.
Before The Last Testament of Lillian Bilocca, she wrote Beryl, about Beryl Burton, the champion cyclist who went faster than her male rivals, as well as Queens of the Coal Age, about four miners' wives who tried to save pits from closure by occupying a mine.
'Determination and fearlessness'
The Bolton-born actress and writer wants to celebrate "ordinary women who had led extraordinary lives", she explains.
She says: "There's a determination and a fearlessness in those women that I really gravitated towards. They were 'get up and go and sod the consequences'.
"I sort of aspire to [that]. They really spoke to me. They didn't let being a woman… obviously it was an issue, but they didn't feel it was something that ever stopped them or became a barrier. They knew what they wanted to do.
"With Beryl and with Lil, they had a passion and they followed it. I suppose that's what I've always tried to do, although it's not always easy."
There are some "amazing role models out there" today, Peake says - but she believes Beryl, Lil and the rest set better examples than some celebrities who are held up as idols for young women. She's looking at you, the Kardashians.
"Look at our role models," she says. "I won't mention her name, but there's a family, you know, and it's all about beauty and looks, and that drives me insane.
"For young women now it's about education. That's our weapon. If you want to fight, as they say, the pen is the sword."
Social media 'holding us back'
The smartphone may not be the sword, though - especially if social media gets in the way of our path to personal freedom.
Peake continues: "It's about following your dream and being brave and - I know it's difficult - but we get very stilted by what other people think of us in this media age now.
"I feel in some respects lucky that it wasn't part of my generation. It feels like it's even more [about] the body beautiful and selfies and Twitter, and people getting held back by what other people think about them and opinions about them.
"You just want to say to girls and young women, 'You can. Think big. Even if you don't get to where you're going, you'll get somewhere along the ladder.'"
Peake herself is near the top of the acting ladder, despite saying she's never taken the most obvious career opportunities.
Her high-profile roles have been peppered with projects like a concept album about the Pendle Witch Trials, playing Hamlet on stage - and now writing a play about a Hull fishwife.
"Sometimes people go, 'Why are you doing that now? You had quite a good acting career there,'" she says. "But that's me. If the path's going one way, I have to jump off.
"If I feel like if there's a few too many people on that path with me then I want to jump off and find another one."
She's not the only person celebrating Lillian Bilocca's story, almost 50 years after her campaign and 30 years since her death from cancer at the age of 59.
As well as Peake's play, which is being staged at Hull Guildhall in a production by Hull Truck theatre, a TV drama is in the works from Red Production Company, which made shows like Trust Me and Happy Valley.
'Lingering hate' against Lil
And by coincidence, another play is being staged in Hull at the same time as Peake's.
Lil has been written by Hull playwright Val Holmes, who was 15 when Bilocca was fighting for better safety. Growing up, she recalls how Bilocca's name was "often used with this lingering hate".
Men in the fishing industry often felt women shouldn't be interfering with their business, while the extra measures her campaign won - like full crews, radio operators for all ships, improved safety equipment and a "mother ship" with medical facilities for all fleets - were blamed for the economic decline of the industry, Holmes explains.
"The awareness is there now about what she actually achieved," the writer says. "It's in the schools. But up to about 15 years ago, no. They forgot all about what she'd actually achieved and the fate of the fishing industry was laid at her door.
"I think people are just realising what she did actually achieve. The thousands of lives that were saved because of her and the other women's actions.
"I think they really do appreciate that now. And thank goodness."
The Last Testament of Lillian Bilocca is at Hull Guildhall from 3-18 November. Lil is at Jubilee Central, Hull, from 6-11 November.
Follow us on Facebook, on Twitter @BBCNewsEnts, or on Instagram at bbcnewsents. If you have a story suggestion email entertainment.news@bbc.co.uk.