Nile Rodgers praises King of Sweden's 'air-guitar'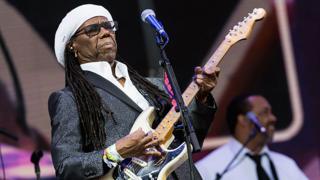 Chic frontman Nile Rodgers says his band's disco grooves so moved King Carl Gustaf of Sweden, that he spotted the reigning monarch playing air guitar at a recent charity do in Stockholm.
"I couldn't believe it," he told BBC Music News LIVE.
"It was so awesome and we realised that if the King of Sweden is playing air guitar then we have to play more funk."
Rodgers is playing at the BBC's Radio Theatre later 2017 Radio 2 In Concert season.
The 300-capacity venue will be one of the smallest stages the disco legend has graced in recent years, having thrilled festival audiences during the summer.
"We've had many, many shows with those massive audiences this year, we got told there were around 200,000 watching us at Glasto, so it's actually going to be fun to be able to see every person in the audience,
"We've haven't had a small gig for ages, this is going to be exciting. I'm digging it."
In fact, Nile and his band visit the UK shores so often, the guitarist and producer said a member of British rock royalty told him that it was time to up sticks and leave New York for the UK.
"I got an Ivor Novello [songwriting award] not too long ago and Robert Plant was in the audience and he said to me, 'You know Nile, you should become naturalised, every morning I wake up and it's, 'Nile Rodgers this and Nile Rodgers that', why don't you just move here?
"When Robert Plant says that to you, I say to myself maybe that's not so crazy. I mean, I was such a Led Zeppelin freak and to think that these are the guys that are my friends now, it's so amazing to me that I was this snotty-nosed little kid who wanted to play a song that maybe, might be a hit and now I breathe this rarefied air with the amazingly talented people, it blows me away, i can't believe my luck."
While there are no reports of any actual royalty due to be in attendance at the Radio 2 gig on Monday night, Nile, it seems, would be more than comfortable with a last minute addition to the guest list.
"We haven't played for the Queen yet but certainly we played for Prince William and Harry only a few months ago because they were supporting their mum's charity - and they gave me an award, which was cool.
"I don't think she would do slap bass, she might do air guitar, that would be fabulous."
Follow us on Facebook, on Twitter @BBCNewsEnts, or on Instagram at bbcnewsents. If you have a story suggestion email entertainment.news@bbc.co.uk.