Harvey Weinstein: Conservatives call out 'liberal hypocrisy'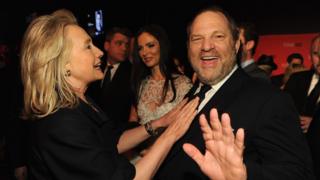 The reaction from Hollywood and the media to allegations of sexual harassment against film producer Harvey Weinstein has sparked online debate over hypocrisy and bias.
Conservative commentators and media outlets have criticised the "mainstream media" for a perceived lack of condemnation of Mr Weinstein.
The film producer is a major backer of Democrat candidates, and some conservative social media users have suggested this has insulated him from criticism.
Donald Trump Jr called out the late night chat show host Jimmy Kimmel for not commenting on the allegations against Weinstein.
Kimmel responded by joking about President Trump's derision of the New York Times, who published the allegations against Weinstein.
The president's son countered by suggesting that the comedian cover the Harvey Weinstein story in his opening monologue.
Mr Kimmel took the opportunity to post a link to recordings of Donald Trump making obscene comments about women in 2005.
Many people online also have pointed to the lack of public statements from "liberal Hollywood" denouncing Mr Weinstein's behaviour.
Oscar-winning actress Meryl Streep, who in 2012 referred to Mr Weinstein as "god", become the target of criticism after the allegations were published.
Referencing her 2017 Golden Globe speech in which the actress strongly criticised the then President-elect Donald Trump, Twitter users called for a similar speech from the actress.
Ms Streep has since released a statement denouncing Mr Weinstein's behaviour as "disgraceful".
Other actresses including Amber Tamblyn called on social media users to stop shaming actresses and holding them accountable for Mr Weinstein's actions.
Continuing the long-running debate surrounding the fairness of the coverage, some social media users are highlighting the allegations against Mr Weinstein as proof of double standards in the media.
Twitter users are questioning the amount of "outrage" shown over Vice President Mike Pence's leaving an NFL game after players knelt in protest against police brutality during the national anthem.