Lang Lang: Carnegie gala sees injured pianist lent a hand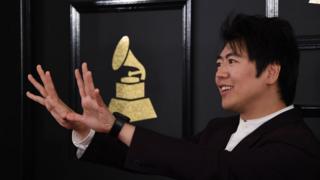 One of the world's best known pianists has found an innovative solution to avoid missing the Carnegie Hall's annual gala.
Lang Lang asked a young protege to literally lend him a hand at the New York concert.
Maxim Lando, a 14-year-old US pianist, played all the left hand notes for him.
Lang Lang has been forced to cancel several months of concerts while recovering from an inflammation in his left arm.
Lando, an alumnus of the Lang Lang International Music Foundation - a music scholarship backed by the Chinese-born pianist - had already played with him at other concerts.
In a rare two-piano, five-hand arrangement, Lang Lang and and his protege were also joined by American jazz pianist Chick Corea to play Gershwin's Rhapsody in Blue.
"With the artistry of the legendary Chick Corea and the exciting young talent Maxim Lando, we hope to delight the audience and take a little pressure off my left arm while it continues to heal," Lang Lang said in a statement ahead of the concert.
Rhapsody in Blue, written by American composer George Gershwin for both one and two piano versions in 1924, is one of the most popular 20th Century US compositions and infuses classical music with jazz.