Jukebox jury: West End hits and misses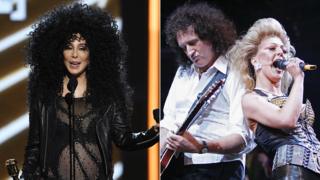 Do you belieeeeve in the idea of a Cher musical? You'd better, because the story of her life is heading to Broadway next year.
The show will preview in Chicago next spring before transferring to New York.
"My life as a musical on Broadway. It seems crazy, exciting and bizarre - but that's probably how my life seems to most people," said the diva.
An Alanis Morrisette musical is also launching Stateside next year, and for those of us on this side of the Atlantic, a Tina Turner musical is to premiere in London in 2018.
For now, let's look at some other jukebox musicals and how they've fared.
---
Jersey Boys
The hit musical that tells the story of Frankie Valli and the Four Seasons left the West End recently to tour the UK, after a successful nine-year stint.
First seen in New York in 2005, Jersey Boys charts the history of Valli's chart-topping group and features classic tracks such as Walk Like a Man and Big Girls Don't Cry.
Time Out London's theatre critic, Andrzej Lukowski says: "There are lots of complicated reasons for the success or failure of a jukebox musical but there's one very simple one, which is that if the artist has had enough hits, you'll probably have a hit."
"Mamma Mia didn't get such bad reviews and Jersey Boys actually got pretty good reviews, but I think the same thing goes: they're based on the works of globally successful 'singles bands' whose songs are still very famous."
Theatre vlogger Perry O'Bree, who has seen Jersey Boys five times, indentifies another reason for its popularity.
"Frankie Valli would audition every single boy that was going for his role, he was very involved and I think that's why it was so successful.
"It's the fact that it's about four guys. It's very rare to find a show that showcases all guys like that.
"It made my dad go to the theatre, he took his mates, and my dad doesn't do the theatre - it's not his thing. But from then on he was hooked."
---
Mamma Mia!
The hugely popular Mamma Mia! musical, which was turned into an equally successful Hollywood movie, is a theatrical juggernaut - it's still running in the West End, where it debuted in 1999, and is also currently touring around the UK.
So what's the appeal?
"Abba are like legends in Europe, which is why it's done well over here" explains Perry.
Andrezj points out that Abba Gold, the band's huge hits album, has sold 29 million copies.
But it's the story as well.
"In America, they like Mamma Mia! because the story is all about holidaying and being happy, so in mid-winter you can go to a Broadway show and feel like you're abroad. It's escapism," says Perry.
"Plus - the music is catchy." Never a truer word spoken.
---
We Will Rock You
The hit musical, based on the songs of Queen and written by Ben Elton, closed in 2014 after a 12-year run in the West End.
Critics were never kind to the £6m production, in particular its story - set in a dystopian future where music is banned. When it opened in 2002, the Guardian said the plot "really is as sixth form as it sounds".
But that didn't stop it being seen by more than 16 million people across 28 countries.
"We Will Rock You had terrible reviews, mostly because critics didn't like Ben Elton's book (that it was based on), but at the end of the day people love Queen. The audience contained very large numbers of tourists who couldn't care less about the story, they just loved the songs," explains Andrzej.
It's actually one of Perry's favourites.
"It was very futuristic, ahead of its time," he said.
"It was more than just a jukebox musical because of the memory of Freddie Mercury. The really special thing about it was that on the odd Saturday night, Brian May would just rock up, run on stage and play.
"Having someone so behind it from the original band, that's what makes it such a successful thing."
---
Rock of Ages
Lovers of 80s rock, we know who you are - and if you were a fan of anthems such as Don't Stop Believin', We Built This City and I Want To Know What Love Is, this was the musical for you.
"Rock of Ages was fun, daring and went down really well but didn't last as long because it was up against We Will Rock You in the West End," Perry explains.
"It was massive in America, where it was on Broadway. Journey are much bigger in the US," he explains.
The musical received mixed reviews when it opened in London back in 2011, with The Telegraph's Charles Spencer describing it "as unpleasant a pile of theatrical poo as it has ever been my misfortune to tread in".
But The Independent's Pierre Perrone gave it four stars, calling it a "feel good" musical that is "hard to fault".
Regardless, it's coming back next year although we don't know where yet.
---
Viva Forever
Sadly, this musical definitely wasn't forever.
Despite being penned by Jennifer Saunders and featuring all the Spice Girls hits (and quite a few B-sides), it received shocking reviews when it opened in November 2012 and closed just seven months later.
Andrzej says: "While the band obviously sold a lot of records, they were never around for very long and... perhaps had a certain lack of cross-generational appeal. The musical also took great liberties with the song arrangements and wasn't the fun singalong romp you might expect."
Perry also says a big mistake was not making the musical about the band itself.
"It wasn't about the girls. People would love to have heard the story of how the Spice Girls were formed… rather than just a made-up story that was very X Factor and we've been there, done that."
---
Desperately Seeking Susan
Oh dear - this pop musical didn't last long. Just one month in fact, back in 2007. So what went wrong?
"It was an adaptation of the Madonna film - featuring the songs of Blondie," explains Andrzej.
"Not only was it a muddled idea that probably tripped over itself, but the fact is that Blondie were just not in the sales league of the others. If it had been a Madonna musical, it would probably have been a roaring success.
---
Follow us on Facebook, on Twitter @BBCNewsEnts, or on Instagram at bbcnewsents. If you have a story suggestion email entertainment.news@bbc.co.uk.