Tate Modern's Turbine Hall turns into a giant adult playground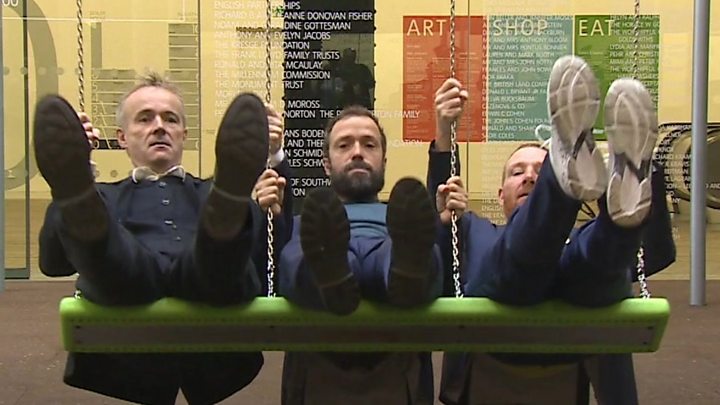 Danish art trio Superflex, known for their playful and political large-scale works, have turned their attention to the huge space that is the Turbine Hall at London's Tate Modern.
Here are nine things you need to know about the artists and their latest commission.
1) Who are Superflex?
Founded by artists Bjornstjerne Christiansen, Jakob Fenger and Rasmus Nielsen in the early 90s, the group have become known for their huge public commissions.
These include Superkilen, an eclectic public park in Copenhagen, and Hospital Equipment, a functioning operating theatre created as part of a Swiss exhibition. They later flew it from the gallery to a hospital in Syria. The group's work frequently focuses on political activism.
2) It's a playground but not as you know it
The Turbine Hall project returns to the park theme - there are swings everywhere. But these are not just any old swings. These are three-seater swings!
As Fenger explains: "It creates opportunities when you do things together. Most things are done collectively. The world is full of too many single swings."
Christiansen agrees: "We want people sitting next to each other who wouldn't normally do unless they were on public transport."
3) Three is the magic number
The three artists have split the Turbine space into - guess what? - three sections.
There's the sloping section with a huge pendulum hanging over a plush stripy carpet, the "playground" area with swings and orange metal bars hanging overhead, and a small "factory" where the swings are created.
4) There's no such thing as "I"
The threesome have strong feelings on working together.
"We don't believe there is such a thing as an individual artist, it is a construct. You cannot walk alone," says Nielsen.
---
More on modern art
---
5) You - yes, you! - can be part of the project
This is the first time a Turbine Hall exhibition will extend beyond the gallery's boundaries to the outside world.
Superflex have installed a "bank of opportunity" just outside the gallery where members of the public can propose sites in London and beyond for the site of the next swing.
The aim, says Christiansen, "is to try to make connections that are not natural, for example, a swing placed across a fence between a social housing estate and a bank". He adds: "It opens up a different way to think about your neighbour."
6) It's all about the money
The guys have a bit of a thing about currency, having previously designed an image of a euro coin in 2012 in response to the Greek financial crisis.
This time, the striped carpet underneath the pendulum represents the British pound.
"We've extracted colours from the notes," Nielsen says.
7) Prepare to be hypnotised
Many artists deliberately don't explain their work - but these guys are happy to tell all. For those of you who don't just want to have fun playing on the swings, the pendulum represents apathy.
"It feels like we're living in the last couple of hours of the Titanic," Nielsen explains. "It's as if we've got a little bit hypnotised by global capitalism."
In contrast, the swings are about eschewing apathy in favour of collective action and the factory element was inspired by Tate Modern's original industrial use as a power station. So now you know.
8) Take a wander through the woodland
The floor is made from organic cork to feel like "a walk in the forest", says Christiansen. And an added bonus - it smells like a walk in the forest, too!
9) All aboard
Superflex's next project is equally exciting - they are going to be expedition leaders on a ship where they will be curating works on board.
And there's more - the threesome are planning to go deep diving in the ocean and are "working with people who make underwater robots".
Superflex's One Two Three Swing! opens on Tuesday 3 October at Tate Modern in London and runs until 2 April 2018.
---
Follow us on Facebook, on Twitter @BBCNewsEnts, or on Instagram at bbcnewsents. If you have a story suggestion email entertainment.news@bbc.co.uk.