A strange encounter with St Vincent
By Mark Savage
BBC Music reporter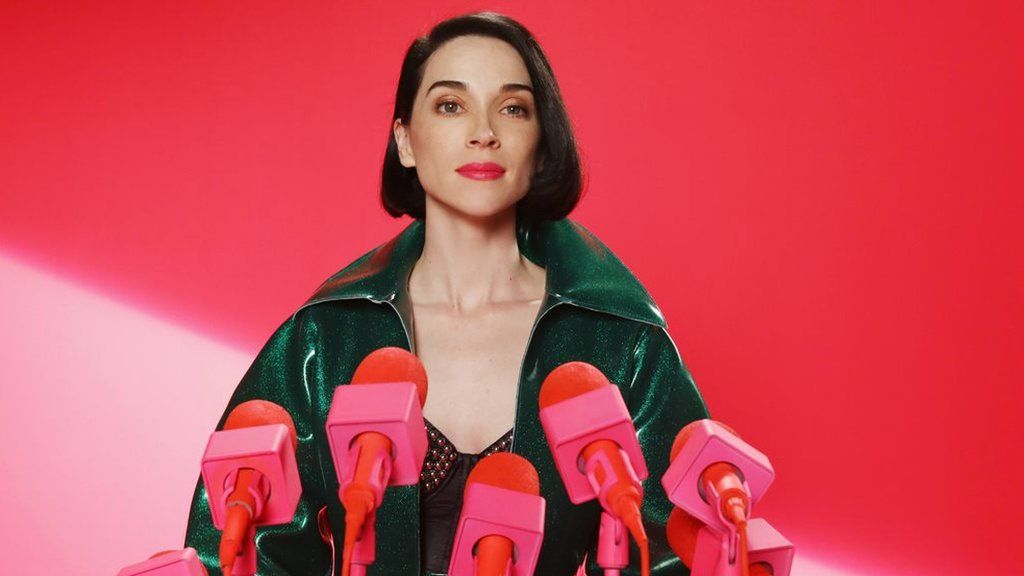 "Are you ready for this?"
St Vincent's press officer is making small talk ahead of our interview, on a scorching hot summer's day in London.
"Sure," I reply. I've listened to her new album. I've made copious notes. I've jotted down about two dozen questions.
"No, but are you ready for this?" he asks.
"I'm not sure what you mean."
A few minutes later, a cloaked woman appears and, without speaking, leads me by the hand into the street, through a fire escape and into a bare concrete room.
She gestures to a billboard-sized poster of St Vincent, which has a non-disclosure agreement at the bottom. I sign it in pink felt tip, and am led to a prefabricated wooden cube. The monk woman unbolts a door, barely big enough for a medium-sized Labrador, and I stoop through.
Inside, the walls are bright pink. There are two pink standard lamps, with pink light bulbs, placed in opposite corners. And there, sitting at a cheap wooden table, is St Vincent, playing ambient guitar music through her iPhone.
Her hair is, I think, painted blue and cut in a close bob. She makes unwavering eye contact as we shake hands and the door is shut (locked?) behind me.
"Wait til the paint fumes get to you," she deadpans. "It'll be really awesome."
As she describes the room - "it's like a psychedelic womb" - the 34-year-old sips a drink through a bendy straw that's been moulded into the word "No".
"That's in case there's a yes or no question. We can just save time."
This, I suspect, will not be your average interview.
St Vincent is here, ostensibly, to promote her new album MASSEDUCTION (that's "mass seduction", not "mass education"). It's the follow-up to 2014's St Vincent, an expectation-defying art-pop record that cemented Texas-born Annie Clark as one of her generation's greatest guitarists.
If anything, the new record is even better - pitching wildly between jittery electronics and despondent ballads as Clark exposes her feelings on sex, drugs and sadness.
"It's an incredibly sad album," she says. "Quite manic and painful.
"I listen to it, and some points of the album are so sad it makes me laugh. It's just so tragic. But that's human life."
The first single, New York, is a disarmingly simple ode to lost love.
"New York isn't New York without you, love," she sings over lonely piano chords, with the pulsing heartbeat of the city submerged deep within the mix.
"It's a kind of dance song that you listen to in your bed and cry," she says.
New York is one of several break-up songs on the album. It's safe to assume they're about Cara Delevingne, the elaborately-eyebrowed supermodel she dated for 18 months until last September - but Clark isn't going into specifics.
"Songs are Rorschach tests," she deflects, referring to the inkblot psychological tests.
"The interpretation of the song, or the feeling of the song, has more to do with the listener than it does with my intention and I'm fine with that.
"But that song's a love letter to New York, certainly, and to me it's a composite of so many people and so many experiences in New York."
The album also continues the saga of Johnny, who first appeared on St Vincent's debut album, Marry Me. Back then, she pleaded to be his partner, singing, "Let's do what Mary and Joseph did / Without the kid".
By her fourth record, though, they were distant and estranged, as he embraced New York's party scene. In the latest instalment, Johnny is dependent on drugs and living on the street. When Clark crosses his path, he accuses her of abandoning him.
"What happened to blood. Our family?" he hisses. "Annie, how could you do this to me?"
It's heartbreaking, and savagely self-critical - but Clark won't say whether it's based on a real person.
"Everybody's real and everybody's a composite," she replies.
It seems evasive. It is evasive. But the singer is a thoughtful, considerate interviewee. She seems to taste the questions, chewing them over before answering. Her responses are precise, but never abrupt.
So why, then, are we talking inside a bright pink Tardis?
The point, Clark explains, is to put both of us "in uncomfortable positions".
"You've done a million interviews. I've done a million interviews. There's only so many times you can repeat your Wikipedia page to someone.
"So what happens if we shake that up? Maybe you and I react differently, and that's interesting."
What actually happens is that we spend 15 minutes talking about the process of being interviewed.
She winces as she recalls a journalist quizzing her on the time she played New York while dressed as a toilet.
"I had just made a horror movie," she says, referencing her short film Birthday Party, "and this was a costume from it".
"Then I had an interviewer say to me, 'Was that some Freudian display, as if you feel you've been pissed upon?'
"I was like, 'Wow, that says a whole lot more about you than it does about me.'"
Principally, though, she's bored of being asked the same old questions.
"I'll give you an example!" she says, grabbing her phone and scrolling through a series of about 30 voice memos.
"I get asked to justify my existence as a woman in music all the time, so here is an example of something I might say."
She clicks play and sits back in her chair, arms crossed. Her voice, in a bored monotone, emits from the speaker.
"Being a woman in music means being asked about being a woman in music. And when you ask me a question about being a woman in music, what you're really doing is presenting me with two very tired narratives, and asking me to choose one of them.
"The first one goes like this: I am a victim, and now is the time to list, in great detail, my many grievances in order to assert my place in the hierarchy of victimhood.
"Or you're asking me to defend now, in words, as if my work wasn't enough, why I deserve a spot at the table.
"I refuse to participate in either narrative."
Her protest duly noted, we proceed to safer ground.
Clark notes that her new album was finished exactly 10 years after her debut was released, and marvels that she's made it this far.
"I've been happy every place that I've been - and every place that I've been, I felt like I had made it. Even when I was playing pizza parlours, or clubs in London for six people - three of whom were listening - I was like, 'I'm playing in London!'
"So for me, it's been a constant, irrepressible desire to make things."
Making this album with Jack Antonoff (Taylor Swift, Lorde), she employed the absurdist tactics of her idols David Bowie and David Byrne, placing "motivational phrases" on the music stand as she sang.
One, shared on Instagram last year, simply read "dead meat."
"Sometimes, when you're doing vocal takes you have a pad and pencil there so you can make notes, and I'd subconsciously written 'Dead Meat'. It just made me laugh that that was whatever was coming out of my brain at that time."
Her Freudian scribbling had no impact on the song, though. "Self laceration is just another form of ego. It doesn't really help," she insists.
"I've learned that the hard way. Trust me, it's not that usable. You really have to get out of your own way, especially when singing."
And that, it transpires, is what really motivates her - the "meditative state" she achieves while making music.
"I need it. And I realise I need it when I haven't done it for a while and I feel very agitated.
"You know, it's like some people get really frustrated and angry and they're like, 'Oh, I need to have an orgasm!'. And then you do that and you feel so much better. It's just that easy."
At that moment, the cloaked woman knocks at the door and our time is up.
"Thank you very much, it was a pleasure to meet you," says Clark.
"You too," I reply, expressing relief that I didn't trigger any of her "stock answers".
"You've done well!" she laughs. "You passed! Bye!"
St Vincent's album, MASSEDUCTION is released on 13 October.
Related Internet Links
The BBC is not responsible for the content of external sites.