Strictly Come Dancing beats X Factor for Saturday viewers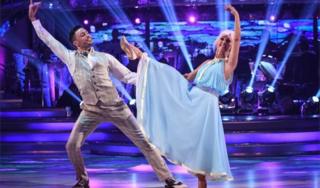 Strictly Come Dancing continues to outpace ITV rival The X Factor in the competition for Saturday night views.
An average of 9.3 million people saw Saturday's episode, making it the day's most watched show with a 45% viewing share.
The X Factor attracted 4.9 million viewers, slightly up on last week but its peak fell from 6m to 5.8m.
The BBC and ITV shows, which overlap for 50 minutes, have long competed for viewers during one of TV's prime slots.
Strictly's episode did better than its 2016 equivalent, which had an average of 8.6m views.
It had a peak viewing of 10.2m, compared to 9.5m in 2016.
This was despite some concern that the celebrity contestants in the dancing competition are less popular than in previous years.