Jean-Michel Basquiat: The neglected genius
By Vincent Dowd
Arts reporter, BBC News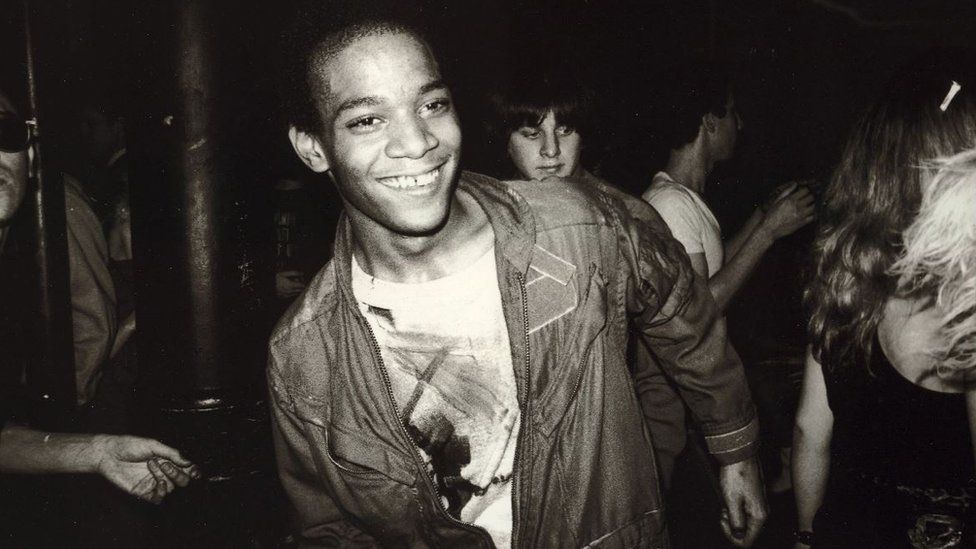 It's almost 30 years since Jean-Michel Basquiat died in New York. Aged just 27, he'd been acclaimed as a major visual artist with roots in street graffiti. Now a big exhibition of his work has opened at the Barbican in London. His friend Jennifer Stein remembers working with Basquiat in the early days - which she thinks were his happiest.
Jennifer von Holstein - otherwise known as Jennifer Stein - is jetlagged from her long flight from Seattle. She's in London for the new exhibition Basquiat: Boom for Real. She's exhausted but nonetheless delighted to talk about the comprehensive survey at the Barbican of the short, brilliant career of her friend Basquiat.
These days she lives in rural Washington State in the US Pacific Northwest. Her husband makes church organs and she has three children, all of whom - she points out - are now older than Basquiat was when he died of an overdose in 1988. She says it seems a different world, but she recalls Basquiat with real affection.
"I think having nurtured a family of my own means I look back on those days with an insight I didn't possess before. And I see more clearly what went wrong for Jean-Michel."
In 1979 she met Basquiat at a party in a loft on Canal Street in Manhattan, where she was living. "People in the art world had been talking about a mysterious new graffiti artist called SAMO who was tagging sites in New York. Then Jean-Michel spray-painted graffiti on the interior wall of the loft and I ran over and grabbed him and said, 'I've been looking for you'. And he looked at me and smiled the hugest smile in the world. He asked why I was there and I said well I live here. And that was the start of a wonderful friendship."
Basquiat has sometimes been portrayed as having escaped poverty. In reality, he was the educated son of a middle-class Haitian-Puerto Rican family, who set his sights on a career in art. Vital to that career was meeting and becoming friends with Andy Warhol a few months after he met Jennifer Stein.
"Jean-Michel was really taken that, in my room on Canal Street, I had a whole series of baseball cards that I'd painted the faces out of. He laughed so hard and then he took the white correction fluid I was using and started to write names on the cards." Jennifer saw that their artistic contributions together meant the cards became unusual and attractive - and might even sell.
"We weren't much more than kids and neither of us had money. So we Xeroxed these colourful cards and sold them on the street. We carried a big placard around and shouted postcards for sale - $1!
"We did that all day and some days we'd maybe make $5 and there was one day we made $20 - that was a big deal. Most people looked at us and the way we were acting and at these crazy, arty cards and just ignored us. But I think people with a sense of humour enjoyed the way Jean-Michel and I made the cards and I'm thrilled to see them on display in London."
Stein says the cards have mostly been hidden away for years. "But I could see that Eleanor Nairne at the Barbican was going to curate the new show beautifully and she did a great job making me see the art world would love to have these examples of Jean-Michel's work before all the money and all the fame."
Basquiat wasn't even 20 when art dealers began to take notice of his brightly-coloured work, which rapidly developed from graffiti roots. Soon he had no need to walk the streets touting $1 postcards. Stein saw her friend's rapid ascent into the artistic stratosphere.
"I understand how it happened and I watched it happen - but it doesn't seem real. I think it didn't seem real for him either. I feel in many ways he should have been more nurtured by the people who gave him the success. It started in an overnight flash, an explosion. Jean-Michel's whole career was just a decade before his death at the age of 27."
Stein says becoming a mother later gave an extra perspective on her friend's career and early death.
"I see now that that age isn't old enough to make sense of that amount of money and all the fame and attention. Maybe he would still be with us today if those people who facilitated his career had seen that though he was an artistic genius, inside he was really a very young person. They should have known that."
The painter's death of a heroin overdose came when he was 27 - a fact which tended to cement his image as the art world equivalent of a rock star. Stein says the comparison is a valid one. "In many ways he was a rock star. And the more I've looked since at the trajectory of his life, the more I realise that in the 1980s Jean-Michel was not looked after by the people who needed to look after him."
Stein looked on as Basquiat's career took off, apparently without limits. "But I don't think that part was the happiest for him. The happy time for Jean-Michel was from about the point I met him through maybe 1982 or '83. It was that era of making the postcards. It was pre-drugs, pre-money, pre-fame. Freewheeling and being a nut - that was what Jean-Michel loved."
Basquiat: Boom for Real is at the Barbican in London until 28 January 2018.
Related Internet Links
The BBC is not responsible for the content of external sites.