Emma Stone: I started therapy for anxiety when I was seven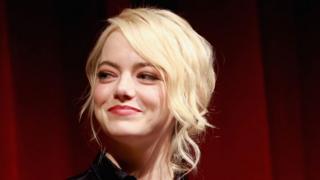 Emma Stone has revealed she started therapy for anxiety when she was seven years old.
In an interview on The Late Show With Stephen Colbert, she talked about having panic attacks and being an "anxious child".
Stone, 28, brought along a drawing she made in therapy aged nine, and talked about how acting has helped her feel less anxious.
"I still have anxiety to this day but not panic attacks," she said.
The actress, who stars in her upcoming film Battle of the Sexes - about the 1973 tennis match between champions Billie Jean King and Bobby Riggs - has spoken about having anxiety in the past.
As a child she believed she would never be able to leave her native Arizona, but by age 15 she was able to move to Hollywood.
She explained her drawing, saying: "So I was nine and in therapy at that time, this is me with anxiety who is a little green monster.
"I was a very, very anxious child and I had a lot of panic attacks. I benefited in a big way from therapy - I started it at seven.
"Acting and improvisation helped me so much."
This is not the first time Stone has spoken about her problems with anxiety; she was part of a campaign with charity Child Mind Institute in May.
In a video made for a charity campaign, she said: "Life goes in stages, and it has always been something that I've lived with and that flares up in big ways at different times in my life.
"But sometimes when it's happening, when I'm in a phase of real turmoil or the anxiety is very strong, it feels like the anxiety is never going to end, and it does."
Stone says she now lives a more balanced life because she has managed her anxiety with "great therapists and great cognitive behavioural tools".
---
Celebrities who have spoken out about their anxiety
Adele's fear of performing is well documented, and she She told Q Magazine back in 2011: "I have anxiety attacks, constant panicking on stage, my heart feels like it's going to explode because I never feel like I'm going to deliver, ever."
Zayn Malik famously cancelled his headline slot at Capital's Summertime Ball in June 2016 and tweeted a statement that surprised everyone, saying "I have suffered the worst anxiety of my career". In an interview with Time Magazine he says about the performance "Mentally, the anxiety had won. Physically, I knew I couldn't function. I would have to pull out".
Taylor Swift also said her song Out of the Woods from her album 1989 is about a relationship giving her anxiety. Before an acoustic performance of the song at the Grammy Museum she said: "the number one feeling I felt in the whole relationship was anxiety, because it felt very fragile, it felt very tentative."
Jennifer Lawrence said she had problems as a teenager and told French Magazine Madame Figaro: "When I started school, the lights went out. It was never known what it was, a kind of a social anxiety. When I was on stage my mother saw the changes taking place, she saw my anxieties disappear."
Zoella, the YouTuber with nearly 12 million subscribers, regularly makes videos about having anxiety. She first revealed in a video in 2012 that it's been a part of her life for a long time. "I have had anxiety since before I started doing this, I have a therapist who I speak to every week without fail and that's been the biggest help because I'm now doing things that I never thought I'd be able to do".
---
Follow us on Facebook, on Twitter @BBCNewsEnts, or on Instagram at bbcnewsents. If you have a story suggestion email entertainment.news@bbc.co.uk.