Obituary: Geoffrey Palmer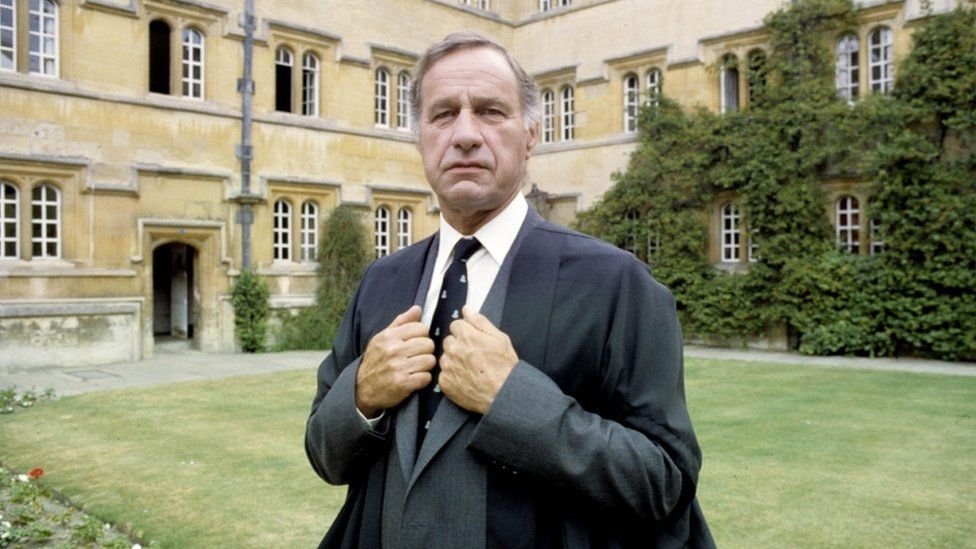 With his hangdog expression and lugubrious delivery, Geoffrey Palmer was one of the best-known actors of his generation.
He cut his teeth on the stage before launching a career as a character actor in a variety of roles in film and TV.
He was perhaps most famous for a series of TV sitcoms including Butterflies, The Fall and Rise of Reginald Perrin and As Time Goes By.
A reserved man, he usually remained out of the public gaze when not appearing on stage or screen, and rarely gave interviews.
Geoffrey Dyson Palmer was born in London on 4 June 1927, the son of a chartered accountant.
After attending Highgate School he did his National Service in the Royal Marines, where he became an instructor, taking recruits through field training and the intricacies of using small arms.
He qualified as an accountant, but he'd always had a hankering for the stage and his girlfriend persuaded him to sign up with a local dramatic society.
There was a job as assistant stage manager at the Grand Theatre in Croydon, before he set out on the traditional actor's apprenticeship, touring in rep.
In 1958 he moved into television with roles in the ITV series The Army Game, a sitcom based on the lives of National Service soldiers that launched the careers of a number of famous actors and led to the first Carry On film.
There followed a variety of TV character parts in episodes of The Avengers, The Saint, Gideon's Way and The Baron.
He also appeared as a property agent in Ken Loach's hard-hitting BBC play, Cathy Come Home.
His world-weary demeanour made him instantly recognisable although it did not reflect his real character. "I'm not grumpy," he once said. "I just look this way."
Despite an increasing amount of TV and film work he continued to perform in the theatre, where he received critical acclaim for his role in John Osborne's play, West of Suez, appearing alongside Ralph Richardson.
Reserved and conservative
He went on to work with Paul Scofield and Laurence Olivier before being directed by John Gielgud in a production of Noel Coward's Private Lives.
In 1970 he played Masters in Doctor Who and the Silurians. It was the first of three appearances he would make in the franchise, returning in 1972 in Mutants and in 2007 in Voyage of the Damned.
He came to the attention of a wider audience as Jimmy Anderson, the clueless brother-in law of Leonard Rossiter in the sitcom The Fall and Rise of Reginald Perrin, which first aired on the BBC in 1976.
He followed this up with the part of the reserved and conservative dentist Ben in Carla Lane's bittersweet comedy, Butterflies.
Palmer's character sat gloomily at the end of the dinner table, unable to comprehend his adolescent sons or his wife's midlife crisis. His world-weary take on events acted as his defence against the mayhem happening around him.
He was still much in demand as a character actor. His film appearances included A Fish Called Wanda, The Madness of King George and Clockwise.
On the small screen he played Dr Price in the Fawlty Towers episode The Kipper and the Corpse, and appeared in The Professionals, The Goodies and Whoops Apocalypse.
He also made a memorable appearance as Field Marshal Haig in Blackadder Goes Forth, casually sweeping model soldiers off a plan of the battlefield with a dustpan and brush.
In 1992 he began a role in the sitcom As Time Goes By, alongside his great friend, Judi Dench.
It followed the progress of former lovers who rekindled their relationship after a 38-year gap. It became one of the BBC's most popular comedies and was still being shown to appreciative audiences 25 years later.
Palmer also shared the billing with Dench in the Bond film Tomorrow Never Dies and as Sir Henry Ponsonby in Mrs Brown, the story of the relationship between Queen Victoria and her servant.
With a voice as distinctive as his appearance, Palmer was much in demand as a narrator. He was heard on the BBC series Grumpy Old Men and he recorded a number of audio books including a version of A Christmas Carol for Penguin.
He also voiced some notable adverts, urging people to "slam in the lamb", in a commercial for the Meat & Livestock Commission and he introduced a British audience to "Vorsprung durch Technik" in adverts for Audi cars.
Away from stage and screen he was a keen fly fisherman, once appearing in a DVD series, The Compleat Angler, in which he retraced Izaak Walton's classic 17th-Century book.
In 2011 he joined the campaign to try to halt plans for the HS2 railway line, the proposed route of which ran close to his home in Buckinghamshire.
He married Sally Green in 1963 and the couple had two children.
In 2000 the British Film Institute polled industry professionals to compile a list of what they felt were the greatest British TV programmes ever screened.
Palmer was the only actor to have appeared in all of the top three - Fawlty Towers, Cathy Come Home and Doctor Who.
Geoffrey Palmer had no formal training as an actor but his innate skills kept him in almost continuous work for more than six decades.
His policy was never to turn down a part. "I love working," he once said, "and, if I'm not working, I'm not earning."