Toronto Film Festival: The teen actresses gaining plaudits in I Kill Giants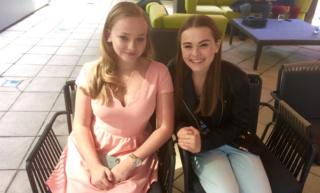 It's not often you ask an actor how they felt about working with their co-star and they reply: "We hated each other."
Fortunately Madison Wolfe is only kidding, and she and Sydney Wade collapse into giggles as they explain how close they grew on the set of their new movie I Kill Giants.
"At the beginning of production we were just kind of polite to each other or whatever, but by the end we were really good friends," 14-year-old Madison says.
Her co-star Sydney, 15, picks up: "By the time we finished we were roasting each other, 'I don't like your shoes', 'Oh yeah, well I don't like your hair!'
"But honestly all jokes aside... she's an okay person." The pair descend into more laughter.
By quite some distance, Sydney and Madison must be two of the youngest movie stars at this year's Toronto Film Festival.
But they're not exactly newcomers to the industry. "I've been acting since I was four, so 11 years now," Sydney explains.
"Building up to this film was a very difficult process for me, it was challenging. I had to graft. I was doing non-speaking roles, non-paid roles. I didn't mind what I did as long as I was doing what I loved.
"But when I got on to I Kill Giants I thought 'this is it - this is everything that I wanted.'"
Similarly, audiences (and horror fans in particular) may have already seen films starring Madison without even realising it.
"A lot of people saw me in The Conjuring, that was probably my biggest role so far," she says. "But people didn't realise that I'd been working for almost six years before that. It takes a long time."
Madison and Sydney's new film I Kill Giants is the big-screen adaptation of the graphic novel of the same name by Joe Kelly and Ken Niimura.
It tells the story of Barbara (Madison), a young girl who escapes to her own imaginary world to deal with the grief and trauma of something she's experiencing at home.
Sydney plays Sophia, an English girl to whom Barbara somewhat reluctantly grows close through the course of the film.
The young actress and the character she plays are both from Leeds - but there's little hint of a northern accent.
"We did try a stronger accent, but we thought, for the film to go globally, it's very hard for some people to understand the Leeds accent, because it can be really strong," Sydney says.
She has a point.
"But I'm kind of neutral. I'm not RP [received pronunciation], I'm not from London or anything, so my own accent is quite plain, and you can understand it.
"I feel like it works well with Madison's accent too, which isn't too strong American."
Madison's character is far from your stereotypical teen girl heroine. She's a social outcast at school, dresses awkwardly and is generally quite eccentric and introverted - quite the opposite of Madison's outgoing real-life personality.
"Getting to play a character that's so different from myself is so cool," the actress says.
"I don't dress like her or anything or wear bunny ears, but this is why I love acting so much, you can be anyone you want to be.
"Barbara being so scruffy and hard, it kind of betrays that she has a bit of a shell on her and she is kind of an introvert."
The film is directed by Anders Walter and also stars Imogen Poots and Zoe Saldana.
Working on major film projects like this must be quite exhausting when you've got homework and exams to worry about, right?
"It's my last year at school, so I'm trying to pass through that," Sydney says.
"I tried a private school which worked really well, but towards the end I was struggling to manage both because I had loads of lessons.
"And then I did a year of home schooling, which was easier in terms of going off to work, but it was harder in terms of learning exactly what you needed to.
"So now I'm back at school, who are just incredible. They're so lenient with me going off and everything."
Madison and Sydney clearly have a long and bright future in film ahead of them - and when asked which other actresses they look up to, they're both full of names.
"One of the biggest icons I have is Meryl Streep," Madison says instantly. "If I ever met her I think I would die.
"But I also love Natalie Portman, Emma Roberts, Margot Robbie - there's so many."
Sydney adds: "I really appreciate Chloe Grace Moretz, I think she's a really great, interesting actor. And she's really diverse with everything she does.
"And Nicole Kidman, I saw her yesterday, very close-up! They are my top two."
Kidman is just one of several Hollywood A-listers Madison and Sydney have been rubbing shoulders with while in Toronto.
Promotion and film festivals can be overwhelming, especially at such a young age, but it's a process the pair are clearly enjoying.
"It's quite rewarding, everyone worked so hard on this film," Madison says. "You see all the reviews and people wanting to know more about it, it's just great - you feel like you've really accomplished something."
The same photographers who have mostly spent their time chasing Matt Damon, Jennifer Lawrence and George Clooney around Toronto this week could well be turning their attention to Madison and Sydney in a few years' time.
Read more from the festival:
---
Follow us on Facebook, on Twitter @BBCNewsEnts, or on Instagram at bbcnewsents. If you have a story suggestion email entertainment.news@bbc.co.uk.