Lady Gaga 'hasn't seen' Netflix documentary Five Foot Two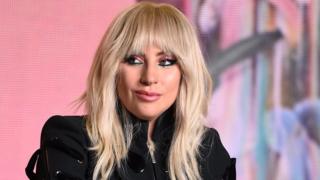 Lady Gaga has revealed she "hasn't seen" the new Netflix documentary about her life behind the scenes.
Gaga: Five Foot Two is currently showing at the Toronto International Film Festival (TIFF), but will debut on the streaming service later this month.
"This film is not my vision, it's [director] Chris [Moukarbel]'s vision. I'm just party to it because it's my life," she told journalists on Friday.
Moukarbel said Gaga was an initially "reluctant participant" in the film.
"It's a difficult thing to let somebody into your life, and I think it happened slowly and organically, and there were points where she could've pulled the plug on it, but she allowed it to happen and then we had a finished film," he said.
"I never got the impression that she was needing a documentary, she was kind of a reluctant participant."
The film follows Lady Gaga, whose real name is Stefani Germanotta, as she prepares for her Super Bowl performance and gears up for the release of her fifth album Joanne.
"It was a challenging time," the singer said. "There were extreme highs and my life has completely changed in the most wonderful way that I would never take back, but it also included the lowest of lows."
Five Foot Two is attracting a lot of attention at TIFF - perhaps more so than even the organisers or promoters expected.
A press conference was hastily scheduled with 24 hours' notice in light of the wave of media interest the film has received.
Gaga said she was surprised to have been deemed interesting enough for a documentary.
She explained that, at the beginning of the process, she would ask Moukarbel, "Are you sure you wanna be here? This is so boring", but added that she settled into having a documentary crew follow her very quickly.
"I was aware of Chris for maybe a moment, but he quickly got to know the way that I am," she said.
"Having cameras in your face a lot is difficult, so why on top of that would I want to have one follow me unless it was someone who I wanted to see artistically how he viewed my life?"
"He became part of the family, and yet I don't know him very closely as a friend, I know him as a filmmaker who was on our team, documenting my life."
Some scenes in the film show her battle the chronic pain she suffered as a result of a hip injury.
"I hope people watching it that struggle with chronic pain know that they're not alone," she said.
"I want people to watch it because they see me dance and sing, that I work through it, it can be done, and we have to stick together. I don't hide it because I think it's weak, it's a part of me."
Despite not having seen it herself, the 31-year-old said that she was just happy that her close circle of friends and family liked the documentary.
"They told me it was beautiful. My best friend loved it, my sister loved it, I guess that's all you can really ask for and go by," Gaga said.
"The truth is I love a great artistic creative experience. And part of that is honouring that this what you are, that it's not your thing to control.
Read more from the festival:
Gaga and Moukarbel had an understanding that he would stop recording if she asked for something to be kept private, but added that that did not happen often.
"[My goal was] to be familiar and comfortable, but not overstep where she would become overly aware of me," the director said.
"There was an understanding that I would shut off the camera right away if she wanted me to."
Moukarbel added how much he admired Gaga for being aware that she is a role model to her fans.
"She's aware of her platform, how young girls and women see her. I could see that she knows that power and influence, so for young women I think there's a story of what it means to be both powerful and vulnerable," he said.
Gaga also reflected on how the nature of celebrity has changed in the social media age.
She said: "I think we all have a responsibility to use our voices for positivity. With social media, this is the first time that pretty much everybody has a microphone to speak, and everybody should be using that for good."
But, she added: "Music's pretty powerful, I would dare to say is infinitely more powerful than a tweet, a selfie of me or a statement of what I think about the world.
"Music has a way to heal people, its vibrations, its science. When it comes out of the speakers there are things that happen in your body, in your spirit, which is not the same as reading something on the internet."
---
Follow us on Facebook, on Twitter @BBCNewsEnts, or on Instagram at bbcnewsents. If you have a story suggestion email entertainment.news@bbc.co.uk.