How many of Britain's national newspapers are for sale?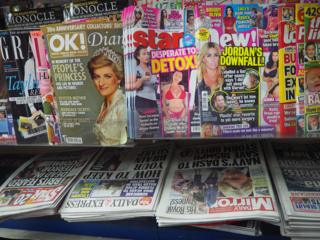 Fleet Street, as romantics still call it, is facing massive consolidation - and today's news is the first big sign of things to come.
I revealed this morning that regional publisher Trinity Mirror is in advanced talks to take full ownership of Richard Desmond's publishing assets at Northern & Shell. This is an attempt by Trinity to use its cash reserves to buy time in the forever shrinking world of print journalism.
Consolidation usually takes place in markets that are over-supplied, where business models are structurally endangered, and cost savings from combining operations have the potential to be enormous.
Britain's newspapers satisfy all those conditions.
For a reading population of the size that exists in Britain, there are several national newspapers. Compare it to America for instance, where - ultimately - there are only three truly national titles (The Wall Street Journal, Washington Post, and New York Times) for a much bigger population.
The urgency behind this consolidation is driven not by an over-supplied newspaper market, but the digital revolution. Readers are fleeing online, where the internet has turned general daily news into an almost universally available commodity. As a result, advertisers are following eyeballs into cyberspace.
With declining print circulations, and declining print advertising, comes declining print revenues. It makes sense, therefore, both to cross-sell advertising (i.e. to offer brands the chance to reach a bigger readership, across titles) and to find cost savings where possible - for instance by smashing together back office operations on things like HR, IT, and in commercial sales teams.
Losing the middle man
I'm not yet in a position to report the price of this deal, but in several conversations with Richard Desmond over the past six months, he suggested the sums that could be saved from such merging were huge.
Through much of that time, the deal he was talking to Trinity Mirror about was one in which David Montgomery, the media investor and former Editor of the News of the World, would play the role of facilitator, raising cash for a deal in which he would be a minority investor and Trinity would take 20 per cent or so of a combined group.
I broke the inside story of that earlier deal here.
Now, Montgomery has been dropped. Middle men are often vulnerable in such deals, and Trinity have decided they can press ahead and bid for full ownership without him.
I imagine the phone call in which Simon Fox, CEO of Trinity, told Montgomery he was no longer part of their plans had about as much conviviality as one between Donald Trump and Kim Jong-un might.
The Competition Commission may take a look at this deal, but given the combined readership of the Express and Mirror titles will be around 29 per cent of market share - roughly comparable to the Daily Mail and its Sunday sister (23 and 22 per cent respectively), that may be a surmountable obstacle.
If this deal does get through any regulatory hurdles, and meet with shareholder approval, it will create a newspaper group with an unusually disparate range of political views. The Mirror titles are pro-Labour; Desmond used the Express to boost UKIP after falling out with David Cameron, who refused to do more for his Health lottery.
Not so long ago, the Express was more sympathetic to New Labour. Perhaps its political leanings are about to evolve again; and who knows whether its affection for stories about the weather, house prices and Princess Diana will survive this new ownership.
Naturally Trinity will insist they believe in editorial independence. But it would be bizarre if they smashed together the commercial operations (which could lead to job losses of course) without looking for editorial synergies too, to use the term beloved of cost-cutters everywhere.
The editorial cost base of the Express has been drastically cut in recent years, and staff there will hope for some fresh impetus and resource from their new comrades. There are sections of a newspaper - Sport, weather, and listings, for instance - where papers with very different political views could combine forces.
Big changes coming
Simon Fox clearly doesn't like sitting still. He bought Local World, another publisher, in 2015. Last year he launched New Day, a daily title, but pulled the plug after just nine weeks. Now he is leading the charge to consolidation across the sector.
The question is how long it will take Trinity's shareholders to recoup the investment made in Local World and Desmond's titles.
Right now, there is a sense in which Britain's newspapers are up for grabs. A heady combination of digital innovation, desperately struggling business models, and the enduringly romantic appeal of print for rich folk means we could see a lot of deals for big titles in the coming year.
I've reported before on interest in the Telegraph. Recently, The Independent sold a big stake, not long after its sister title, the i, was sold to Johnston Press.
Would Jonathan Rothermere, the owner of the Mail titles, sell them at a big enough price, to focus on growing his digital and B2B businesses?
If Rupert Murdoch doesn't lose patience with his British newspapers, might his children - if they haven't already?
Richard Desmond may just be the first very rich man to decide print is yesterday's news.