The secret life of Sir Howard Hodgkin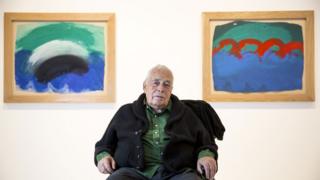 Turner Prize-winning painter Sir Howard Hodgkin, who died in March, was famous for his hugely colourful and vibrant pictures.
What's much less known is his secret "addiction" - to buying other people's art.
"I think of collecting as a virus," he once said. "And I was infected."
Now his partner, Antony Peattie, is selling more than 350 works at auction through Sotheby's.
The couple shared a four-storey Georgian house, near the British Museum in London, for 30 years.
It was crammed with prints, paintings, carpet fragments, tiles, sculptures and books, collected by Hodgkin since his teenage years and covering every wall and surface.
"When he earned money, he spent it on objects," said Peattie. "It was related to work.
"He collected in order to feed his soul, which meant he was then able to work. He called it grist to the mill."
But Sir Howard did not like hanging his own pictures in his home.
"He couldn't bear to see his own work when it was finished," said Peattie.
"He was always concerned about producing better work. He felt that what he'd done got in the way of what he would do."
Hodgkin chose only to hang pictures painted by his friends on the walls of his home.
They included Patrick Caulfield, Sir Peter Blake and the Indian artist Bupen Khakhar.
"Masterpieces are impossible to live with," Hodgkin once said. "They demand too much attention."
Perhaps it is not surprising, then, that he also believed in what he called "costume jewellery for the home": objects with little apparent practical use, including a decorated ostrich egg and an enormous wooden salmon.
Hodgkin was also a voracious reader who was devoted to the works of Agatha Christie. Peattie thinks they provided a welcome distraction from painting.
"He read them as a child. Because he knew the stories so well, they allowed his mind to free itself from trivia and work."
The Sotheby's sale on 24 October includes 117 works by or about the famous mystery novelist.
Peattie says there are two reasons behind his decision to sell his late partner's objects. The first is practical.
"Howard left a letter of wishes in which he left a lot of money to a lot of people, which I can only fulfil once there's a sale," he explains.
"But on top of that, when I came back from the funeral and I came into the house and it was so full of Howard, yet he wasn't there, it was very disturbing because the objects are so closely associated with him.
"So I knew I needed to start again. I didn't want to live in a shrine, and this seemed a very good way of changing things and recognising that after 33 years, everything has changed."
---
Follow us on Facebook, on Twitter @BBCNewsEnts, or on Instagram at bbcnewsents. If you have a story suggestion email entertainment.news@bbc.co.uk.