Complaints over Good Morning Britain's 'gay conversion' interview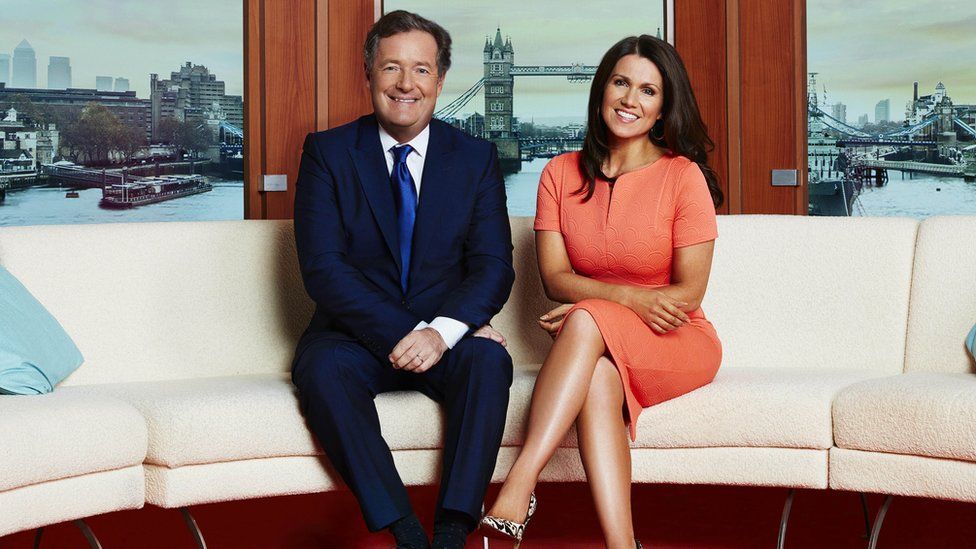 Hundreds of viewers have complained after Good Morning Britain aired an interview with a therapist who claimed he can make some gay people straight.
Dr Michael Davidson appeared on Tuesday's show and said homosexuality is "an aberration", "a sin" and "in some cases reversible".
Hosts Piers Morgan and Susanna Reid challenged him over his views.
Media regulator Ofcom said 466 people had complained that the ITV programme had given a platform to anti-gay views.
Good Morning Britain broadcast an investigation by journalist Josh Parry, who went undercover in a church in Liverpool to pose as a member of the public struggling with his sexuality.
He found the Mountain of Miracles and Fire Ministries in Anfield to be offering gay people the chance to "cure" themselves through prayer and fasting.
That was followed by a discussion with Dr Davidson - who's not connected to the Mountain of Miracles and Fire Ministries - and who said there's no evidence that people are born gay.
During a heated debate, Morgan told him: "You know what we call these people?
"We call them horrible little bigots in the modern world. Bigoted people who talk complete claptrap and, in my view, a malevolent and dangerous part of our society."
Viewers have shared their thoughts on social media, with some saying the move was distasteful in light of an earlier interview in which Morgan confronted transgender model Munroe Bergdorf.
Good Morning Britain has since tweeted asking viewers whether controversial interviewees should be allowed on at all, even if they are challenged. ITV has not commented further.
Our item with a doctor who claims to 'cure' gay people caused controversy yesterday. Should offensive views not be aired even if challenged?

— Good Morning Britain (@GMB) September 6, 2017
Related Internet Links
The BBC is not responsible for the content of external sites.