Diana TV drama looks at the princess's people
By Neil Smith
Entertainment reporter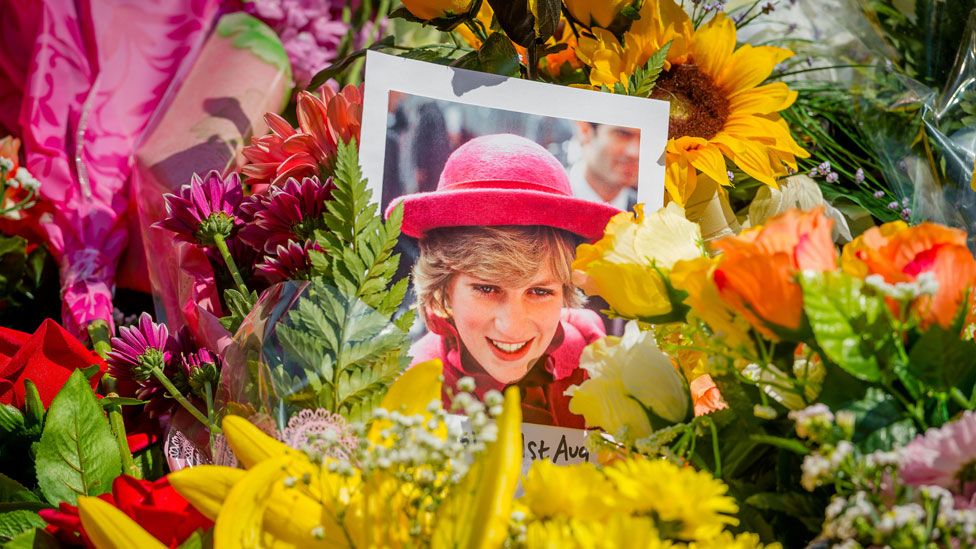 What did Princess Diana's death mean to ordinary people? That's the question Diana and I, a new BBC Two drama, attempts to answer.
Twenty years on from her death, she remains what Tony Blair called her: The People's Princess.
Yet it is the princess's people who are the focus of Diana and I, a 90-minute drama that explores how her death affected members of the public.
"The idea was to write a film about Diana's death, not from the point of view of the Royal Family or politicians, but of ordinary people," says writer Jeremy Brock.
"I wanted to tell stories that resonated legitimately with how I remember what happened, and how we deal with being human."
Alongside 9/11, anyone who is old enough knows where they were and what they were doing when they first heard about Diana's fatal car crash.
"I was at home, switched the TV on and saw Judy Finnigan weeping," says actress Gemma Jones, one member of the film's large, multi-racial cast.
"My elderly father was living with me at the time, so we sat and watched the television all morning."
Actor Neil Morrissey was also at home, in his north London flat. The former Men Behaving Badly star describes what followed as "a tidal wave" of rolling news and raw emotion.
"I wasn't particularly a royalist, so I didn't quite get why the nation was in such a furore," he recalls.
"But you couldn't help being affected by how everyone was being affected. It was extraordinary the impact it had on the nation, and the world."
Newly married at the time, Tamsin Greig says she was blissfully unaware of what was unfolding in Paris on that fateful Sunday morning.
Until, that is, the actress and her husband bumped into an elderly neighbour.
"She was weeping and saying 'they've killed her - they've killed the princess,'" she remembers. "I felt amazed we didn't know."
Brock, meanwhile, says he found out while holding his baby son in his kitchen.
"From that moment on, all I can remember is wall-to-wall news," he says. "The other thing was that you talked to people.
"You shared your shock and surprise, whether you were a royalist or not."
Four fictional stories interweave in Diana and I, each one of them having parallels to how Diana lived her life or was perceived.
In one, a Glaswegian florist (Greig) leaves her ageing mother (Jones) and travels to London to exploit the sudden demand for bouquets that Diana's death generated.
"Mary, my character, has a Eureka moment, realising the news can be used to get herself out of a hole," says Greig, who studied flower arranging in preparation for her part.
"'Death is death,' says Mary, 'but a royal death is a hell of a lot of blooms.' She sees it as a means to an end."
In another plot thread, a young man loses his mother at the same time the nation is gripped with communal grief. His estranged father, played by Neil Morrissey, is too preoccupied to offer much support.
"My new girlfriend is unsympathetic about his mother dying but is all over the death of Diana," says the actor. "So I'm dealing with her, instead of my son."
Additional plot strands deal with ambitious journalists covering the story in Paris and a young Asian woman who leaves her husband in Bradford to see Kensington Palace's iconic "sea of flowers".
The latter was recreated at Sefton Park in Liverpool, with a little CGI assistance.
"I wanted to tell stories that I felt would ring with truth and authenticity," says Brock, whose previous work includes films Mrs Brown and The Last King of Scotland.
"As a writer, you're always looking for something with an innate structure. Here was a story set over seven days, where everyone had a relationship to the central idea."
Brock accepts that both he and director Peter Cattaneo - of The Full Monty fame - could be accused of exploiting what is a poignant and painful anniversary for many.
Yet he prefers to say he is "celebrating" it with a drama that is less about Diana herself and more about "what her death meant" to the man and woman on the street.
"I don't think there's anything they would find exploitative about it," he says when asked what he thinks Princes William and Harry might make of his efforts.
"I have no idea if they'll watch it, but I'd like them to. I would love the idea it might feel like a fitting tribute to their mum."
The last word goes to Jones, the only member of the Diana and I ensemble to have met the princess herself.
"I did meet Diana a couple of times at theatrical events," recalls the 74-year-old. "She was always very charming, very easy to talk to, friendly and sort of coltish.
"I think there was an Evening Standard Film Awards where we were all backstage in a room together - and I don't remember curtseying."