Sarah Hyland: Modern Family actress hits back over body shaming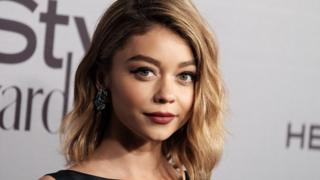 "I'm here to say that no-one should aim to be the weight that I am right now," Sarah Hyland said as she responded to criticism about her appearance.
The Modern Family actress took to social media after suggestions she looked anorexic in a recent photo.
Hyland underwent a kidney transplant in 2012 after battling kidney dysplasia her whole life.
"I'm not in control of what my body looks like," the actress said in a post on Twitter.
"I strive to be as healthy as possible, as everyone should."
Kidney dysplasia is a condition which can eventually cause the organ to malfunction.
Hyland made the comments after some fans suggested she looked anorexic in a recent Instagram post.
"No, that's not Photoshop, those are my legs, those are my arms," she said. "I write this because I've been accused of promoting anorexia, in, ironically enough, an anti-bullying post. And I want young girls to know that's not my intention."
Hyland has previously said: "I was born with so many health issues that doctors told my mother I would never have a normal life."
It's unclear what other health problems she has - but her father donated one of his kidneys for her transplant in 2012.
'I will conquer my obstacles'
"This year has brought a lot of changes, and with that, physical changes," Hyland said. "I've been told that I can't work out. Which, for me is very upsetting."
"Being strong has gotten me where I am, both mentally and physically. I am not a fan of 'being skinny' which many of you have told me I'm too much of."
Speaking about her recent health problems, the actress said: "I've basically been on bed rest for the last few months, I've lost a lot of muscle mass.
She concluded: "I've been down before and I'll probably be down again in my lifetime but I'm steadfast and solid and will conquer my obstacles."
"I'm a 26-year-old woman who goes through more than you could ever imagine on a daily basis."
---
Follow us on Facebook, on Twitter @BBCNewsEnts, or on Instagram at bbcnewsents. If you have a story suggestion email entertainment.news@bbc.co.uk.