Steps are coming back with an Abba song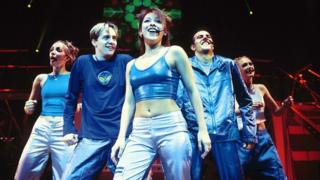 They started off as a novelty act, designed to cash in on the 1990s line-dancing craze - but Steps' popularity has been surprisingly long-lived.
Often derided as a "bargain basement Abba", they sold more than 15 million albums before their split in 2001.
After reforming in 2012, they've finally made a new album - which happens to include a song by Abba's Björn Ulvaeus and Benny Andersson.
Called Story of a Heart, it's a cover of a song by Andersson's current band.
Written in the vein of The Winner Takes it All, it's a typically Abba-esque ballad about a woman whose life is turned upside down when she sees an old lover's face in a crowd.
"The song's got a good story," Steps' singer Lisa Scott-Lee told Popjustice. "We felt it was a good nod to where we've been musically as a band, but I related to the words while I was recording it."
It's certainly a cunning choice - acknowledging the band's debt to Abba, without desecrating one of their classics.
According to singer Claire Richards, it has even had the seal of approval from Abba themselves.
"Benny really liked our take on it," she told The Sun. "He said it's almost as good as his version!"
Story of a Heart will feature on Tears on the Dancefloor, Steps' first album of new songs since Buzz, released 17 years ago.
It will be preceded by a single, Scared of the Dark, which is out this Friday; and the band will embark on a 15-date tour this November.
Scott-Lee said the world was ready for another dose of Steps' bright-eyed chart pop.
"What we can offer is escapism and a bit of positivity in people's lives," she said. "Everyone's dealing with lots of different things but music's universal, and it takes you to another place and time, and this album - I feel - is where Steps should be 20 years on."
Potted history of Steps
The band were formed in 1997, after an advert appeared in The Stage announcing open auditions for a five-piece line-dancing pop group.
The successful applicants were Lisa Scott-Lee, Ian "H" Watkins, Derek O'Brien, Maddy Chan, and Mitch Stevens.
After the initial line-up failed to gel, further auditions were held; with Lisa and H joined by Claire Richards, Faye Tozer and Lee Latchford Evans
Their debut single, 5, 6, 7, 8 was a cheesy dance track that capitalised on the line-dancing craze.
It failed to make the top 10, but hung around the charts for months, eventually becoming one of the biggest-selling singles of the decade.
Steps then signed to Jive Records, attracting the attention of pop svengali Pete Waterman, who plotted to make the five-piece "Abba on speed".
Waterman provided their second single - a Bananarama cast-off called Last Thing on My Mind - which went into the UK top 10.
Their third single, One for Sorrow, started a run of 14 consecutive top 10 hits, including Stomp and Deeper Shade of Blue.
Each of their songs had its own dance routine, printed on the inner sleeve of the CD single.
Tragedy - a cover of the Bee Gees classic - was their big cultural moment, reaching number one in 1999.
H befriended Britney Spears, leading to Steps supporting the star on her 1999 US tour.
An hour before the last date of their Gold tour in 2001, H and Claire handed their bandmates letters announcing they were quitting.
H and Claire launched a solo career, which flopped after one album, and briefly hosted Saturday morning kids' show SM:TV.
And that was the end... until the band were coaxed together for a Sky Living documentary in 2011. "Did you really hate us?" Faye asked H and Claire.
Lisa said she would "never get over" the way the band ended.
But she did, and they toured the next year, selling out arenas across the country.
They subsequently released an album of covers, but took time off to pursue solo projects in 2013.
H appeared in Joseph and his Amazing Technicolor Dream Coat while Faye starred in a touring production of Singin' in the Rain.
Behind the scenes, they appointed new managers and began work on comeback album Tears on the Dancefloor.
Follow us on Facebook, on Twitter @BBCNewsEnts, or on Instagram at bbcnewsents. If you have a story suggestion email entertainment.news@bbc.co.uk.