Oscars 2017: Denzel Washington 'marries' tour bus couple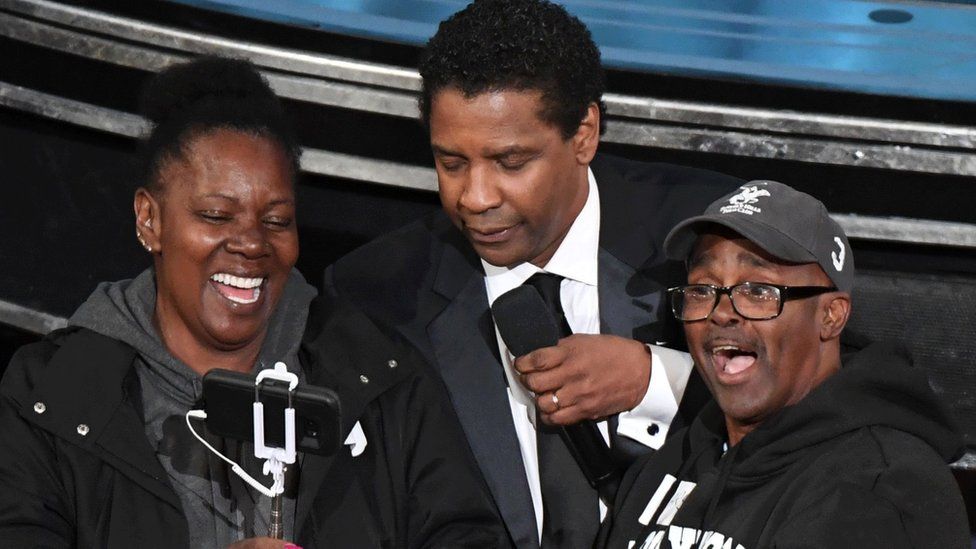 Fences star and director Denzel Washington surprised a tourist couple at the Oscars by pretending to marry them in a mock ceremony.
A group of tourists were brought into the glitzy event, having been told they were going to see a costume exhibition.
One woman said she and her partner were getting married in August and that Washington was her favourite actor.
Oscars host Jimmy Kimmel then asked Washington to perform a quick ceremony in the front row of the auditorium.
'He's Denzel so it's legal'
"I now pronounce you man and wife. You may kiss the bride," Washington said.
Kimmel joked: "He's Denzel, so it's legal."
All of the tourists were invited to shake hands with the stars on the front row, including Meryl Streep, Emma Stone, Ryan Gosling and Viola Davis.
Jennifer Aniston was asked to give them a gift and gave one lucky woman sunglasses from her handbag.
Previous Oscar stunts include host Ellen DeGeneres taking a selfie in 2014, featuring stars such as Meryl Streep, Jennifer Lawrence, Angelina Jolie and Brad Pitt.
Related Internet Links
The BBC is not responsible for the content of external sites.