Germany leads fightback against fake news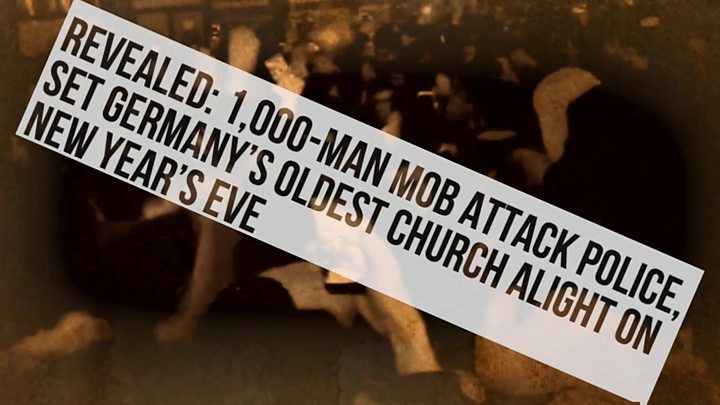 I have been in Dortmund and Berlin this week, investigating how Germany is leading the fightback against fake news.
There have been some high-profile cases here. Breitbart reported that a mob attacked Germany's oldest church, St Reinold's Church in Dortmund. The website has subsequently published a lengthy defence of its original article, together with an admission that it is not in fact the oldest church in Germany.
I visited the church and spoke at length to locals, including a pastor who works in the city (and was named in the Breitbart report), and a local refugee support worker. They were unanimous in the view that the Breitbart report misrepresented true events in service of an anti-Islamist agenda that was divisive and unjust.
In Berlin, I spoke to Anas Modamani, a 19-year-old Syrian who enjoys taking selfies. So much so that three weeks after turning up in the German capital, having come from the outskirts of Damascus via a boat trip, Turkey, Greece and Macedonia, he took a selfie with Angela Merkel, who was visiting his hostel. It promptly went viral, together with the false claim that he was a terrorist. He is now suing Facebook.
Germany's political class wants to take action. Lars Klingbeil, a fast-rising star of the Social Democratic Party who is a close associate of Martin Schulz, told me his plan to tackle fake news. Perhaps Damian Collins, the Tory chairman of Parliament's culture select committee here, who has launched an inquiry into fake news, could pick up some ideas.
Facebook now employs independent fact-checkers here. Correctiv is a smart outfit whose employees are mostly young. Correctiv monitors suspicious stories, looking at how much they are being liked and shared.
If the headline looks suspicious, or it appears on a website known to be dubious, the Correctiv team will contact the original sources for the story, to verify if it's true or not. They then mark it true or false, and send a message to all German users of the social media platform, indicating its rectitude or otherwise.
They don't accept money from Facebook, because they want to retain total editorial independence. But they too are a sign of how, outside of America, Germany is leading the fight against fake news.
Read more:
Based on my conversations here, there are several reasons why Germany has got ahead of the curve on this important issue.
First, Mrs Merkel's refugee policy is hugely controversial, and has galvanised that part of the political spectrum that, thus far, has shown the greatest propensity for creating fake news internationally: the nationalist far-right. It turns out letting in a huge number of refugees is a good way to mobilise purveyors of fake news.
Second, because of Germany's 20th Century history, there is a hyper-sensitivity about the rise of that far-right. The success of Alternative for Germany, a nationalist party, and the ever-present but low-level threat from neo-Nazi groups make many Germans determined to act fast.
Third, the traditional media sector here is very different to those of Britain and America. The most influential newspapers are staid rather than raucous; the cable news channels are more BBC or CNN than Fox News, and talk radio has nothing like the oomph that is generated by the likes of Rush Limbaugh or, now on LBC, Nigel Farage.
Germany's conventional media market has created an opening for fake news, which of its very nature is salacious and exciting.
Fourth, there have been several high-profile cases. The Modamani case is perhaps the most notorious. Groups like the Resistance of German Patriots have been happy to spread nationalist propaganda, with a limited regard for facts.
Fifth, my sense is that Germany retains a strong belief in the competence and capability of government. If there is a social problem, goes this thinking, perhaps it is capable of a political solution, by virtue of smart regulation.
That was the impression Mr Klingbeil gave, but the belief that fake news should be combated by regulation is not restricted to social democrats: Mrs Merkel's Christian Democrats are also putting pressure on Facebook to make it easier for users to flag suspicious content and delete posts, while those targeted by fake news would be given a right of reply.
Sixth, there are local and national elections coming. Fearing a repeat of America's recent experience, where fake stories went viral and may have influenced some voters, Germany believes prevention is better than cure. And Facebook, damaged by the fallout from fake news about Donald Trump, appears to agree.
Fake news is not a problem that is going to disappear soon; nor is it one that any journalist can ignore, or be neutral toward. It behoves all of us in this trade - at least those of us who retain a belief that truth is possible and necessary - to wish Germany success in this fight.
You can watch my report on the News at Ten on BBC One tonight.