US actress Mary Tyler Moore dies aged 80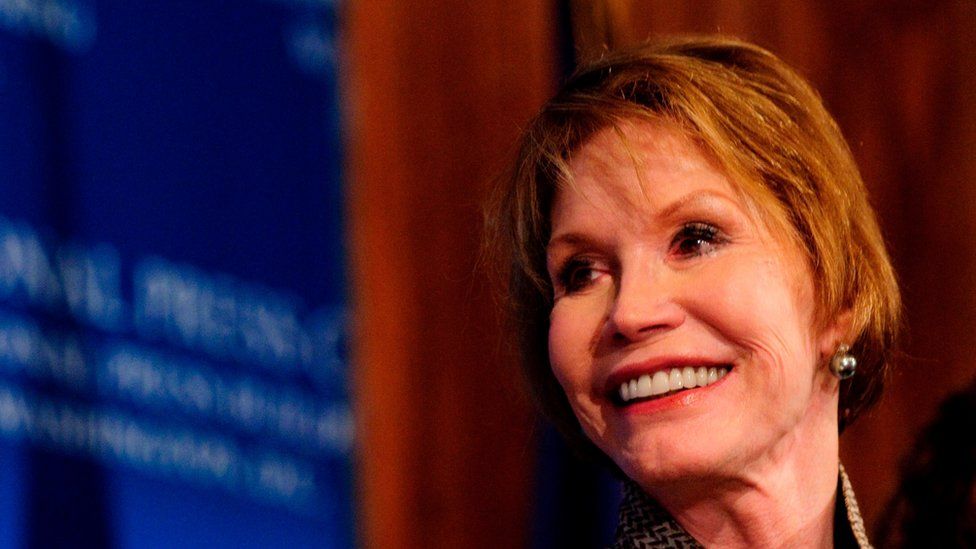 Emmy award-winning US actress Mary Tyler Moore has died aged 80, her publicist says.
She was best known for her television roles in the 1960s sitcom The Dick Van Dyke Show and the eponymous The Mary Tyler Moore Show in the 1970s.
She was also nominated for a best actress Oscar in 1980 for the film Ordinary People.
Mara Buxbaum said in a statement she died in the company of friends and her husband, Dr S. Robert Levine.
Born in Brooklyn, New York, Moore moved to Los Angeles when she was eight years old and started her career in show business as a dancer aged 17.
Her first appearance was in a Hotpoint advert in the 1950s, dressed as an elf.
But her parts grew in size during that decade, before she landed the role of wife Laura Petrie in The Dick Van Dyke Show in 1961.
In 2012, Van Dyke said working with the "beautiful, bright and talented," Moore was "an effortless piece of cake."
Later, she starred as TV producer Mary Richards in her self-titled sitcom. Running for seven seasons from 1970 to 1977, it was named by Time Magazine as one of 17 shows that "changed television".
Moore emerged onscreen at a time when women in leading roles were traditional housewife characters.
But with her modern trousers and Jackie Kennedy-style hair, and playing a single woman, living on her own and chasing a career, she challenged that stereotype in front of millions of viewers.
Moore and her then-husband Grant Tinker created and produced the show and a number of spin-offs, as well as other hits programmes, including Hill Street Blues, St. Elsewhere and Remington Steele.
TV host Oprah Winfrey described Moore as one of her early inspirations, saying she watched her show every week as a child.
"I wanted to be Mary," she said. "I wanted to live where Mary lived."
Moore swapped comedy for drama in Ordinary People, playing an affluent, bitter mother who loses her son in an accident. As well as an Oscar nod, the role earned her a Golden Globe.
Robert Redford, who directed the film, paid tribute to her, saying "energy, spirit and talent created a new bright spot in the television landscape".
Co-star Timothy Hutton said in a statement: "She was a truly amazing person, a great friend, and an inspiration to all."
Moore, who was married three times, endured great personal tragedy. She grew up with an alcoholic mother and suffered from alcohol problems herself - both women were treated at the Betty Ford Center.
Her younger sister died of a drug overdose aged just 21 and she lost her brother to cancer at 47. In her book, After All, Moore described how she tried to help her terminally-ill brother commit suicide with drug-laced ice cream, but the attempt failed.
Her only child, Richie, born during her first marriage to Richard Meeker, also struggled with drug abuse, and accidentally shot himself dead aged 24.
Moore was diagnosed with Type 1 diabetes in the 1970s and later became the international chair of the Juvenile Diabetes Research Foundation, testifying before US Congress to promote stem-cell research. She also campaigned for animal rights.
Many of Moore's high-profile fans have paid tribute to her, with some praising the part she played in changing the portrayal of women on screen.
TV host Ellen DeGeneres tweeted: "Mary Tyler Moore changed the world for all women. I send my love to her family."
Rose Marie, who starred alongside Moore in the The Dick Van Dyke Show, said the pair had shared "remarkable and unforgettable experiences", while Carl Reiner, who also appeared in the show, said Moore would "last forever".
Actor Stephen Fry, who was rehearsing on the Hollywood stage made famous by Moore's show, tweeted: "A minute's silence as we remembered one of the true greats of TV comedy."
Film director Kevin Smith praised her campaign work, tweeting: "TV [and] film star, tireless defender of animals, and scourge of diabetes. Truly she turned the world on with her smile."
And Matt Sharp, founding member of rock band Weezer, who mentioned the actress in their hit song Buddy Holly, tweeted: "Never met her, but Mary Tyler Moore sent each one of us… a signed pic at Buddy Holly's peak. It was as sweet, as it was surreal."