Ewan McGregor and Piers Morgan row over Good Morning Britain appearance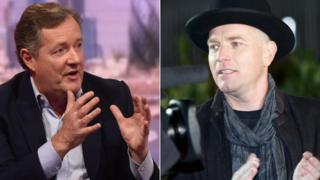 Ewan McGregor has pulled out of an appearance on ITV's Good Morning Britain (GMB) as he "didn't realise" Piers Morgan was the host.
The actor tweeted: "Won't go on with him after his comments about #WomensMarch."
Morgan had described some of the women who marched as "rabid feminists".
A GMB spokesman said: "Ewan came [in] this morning to be interviewed about his new film but decided not to go ahead with it."
Women's marches took place in many cities around the world to protest about Donald Trump becoming US president.
In response to McGregor's decision, Morgan tweeted: "Sorry to hear that @mcgregor_ewan - you should be big enough to allow people different political opinions. You're just an actor after all."
In further tweets responding to his followers' comments, Morgan wrote: "Why should actors be deemed to have more important or correct political opinions than anyone else?"
In another tweet, he wrote: "Ewan McGregor IS just an actor, not a brain surgeon." A further tweet claimed he was "not the Dalai bloody Lama".
"Such a shame," Morgan's co-presenter Susanna Reid tweeted. "Challenge views where there's difference.
"Would have liked to see that debate on air - it's an important one. #WomensMarch."
Reid went on to claim that her co-host's views were "widely held" and that feminists were "fighting the wrong battles if we turn on each other".
'Could be awkward'
On Monday, Morgan debated the issue with his co-presenter and three female guests, including Women's Equality Party leader Sophie Walker.
Morgan said: "For every woman who marches with good intent there are women who I would categorise as rabid feminists who don't like men very much."
Less than an hour before McGregor was due to appear, Reid and Morgan said he would be coming on the programme at 08:20 GMT to discuss Trainspotting sequel T2.
Morgan said McGregor was one of only two actors his wife "fancied" and that the interview "could be awkward".
Earlier this morning, Good Morning Britain tweeted: "Uh-oh... where's @mcgregor_ewan?
"Maybe he wants to avoid the tension of knowing @piersmorgan's wife has the hots for him?"
---
Follow us on Facebook, on Twitter @BBCNewsEnts, or on Instagram at bbcnewsents. If you have a story suggestion email entertainment.news@bbc.co.uk.