The Carpenters sue Universal Music over unpaid royalties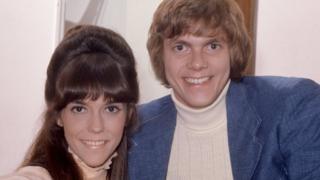 Richard Carpenter has said he is owed at least $2m (£1.6m) in royalties for the hits he recorded in The Carpenters, including Yesterday Once More.
He claims Universal Music have only paid the band a "minuscule fraction" of the money they were owed from downloads on sites like iTunes and Amazon.
The musician is suing for compensation, according to legal documents filed in Los Angeles on Wednesday.
The claim is also filed on behalf of his sister, Karen, who died in 1983.
Carpenter hired accountants to examine financial statements from Universal Music and its subsidiary, A&M Records, which has released The Carpenters' music since their debut album in 1969.
He says they found multiple errors, and that the labels "improperly classified" revenue from digital downloads of The Carpenters' music as sales of physical records - which attract a lower royalty rate. He also claims that digital downloads were undercounted.
In a statement, Carpenter said he had been unable to resolve the dispute without suing.
"The Carpenters recordings are among the best sellers in the history of popular music, and after 48 years continue to contribute a substantial amount to [Universal's] annual bottom line," he wrote. "It seems only fair that these companies account fairly to my sister's estate and to me."
Specialising in radio-friendly soft rock, The Carpenters sold millions of records in the 1970s. The brother-sister duo won three Grammy Awards in 1970 and 1971, including best new artist and best vocal performance for the ballad (They Long to Be) Close to You.
The band's career was cut short when Karen developed anorexia nervosa in 1975. Although they continued to record, the condition eventually led to her death, from heart failure.
Richard Carpenter's legal claim is one of many filed in the US after a 2010 court case involving Eminem, which resulted in a ruling that artists should receive higher royalty payments for digital downloads than they do when a CD or vinyl album is sold.
The difference is substantial. According to Billboard, artists get 15% of the money generated by the sale of a record. For downloads, which are counted as "licensed content", the figure 50%.
Artists including Peter Frampton, Public Enemy, Whitesnake and The Temptations have all sued, or threatened to sue, in order to obtain the higher rate.
Universal Music were not immediately available to respond to the latest case.
Follow us on Facebook, on Twitter @BBCNewsEnts, or on Instagram at bbcnewsents. If you have a story suggestion email entertainment.news@bbc.co.uk.