Donald Trump said Meryl Streep was 'excellent' in 2015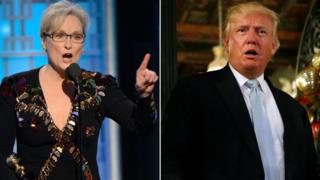 Donald Trump, who tweeted that Meryl Streep was "overrated" on Monday, said she was one of his favourite actresses just 17 months ago.
In a Hollywood Reporter interview in August 2015, he said: "Meryl Streep is excellent; she's a fine person, too."
Streep had criticised the president-elect at the Golden Globes awards ceremony in Beverly Hills on Sunday.
She also referred to Mr Trump's apparent mocking of a disabled journalist at a rally last year.
Streep told the audience: "You and all of us in this room really belong to the most vilified segments in American society right now.
"Think about it, Hollywood, foreigners, and the press."
"There was one performance this year that stunned me," she continued, without naming Mr Trump.
"It sank its hooks in my heart. Not because it was good. There was nothing good about it. But it was effective, and it did its job. It made its intended audience laugh and show their teeth.
"It was that moment when the person asking to sit in the most respected seat in our country imitated a disabled reporter. Someone he outranked in privilege, power and the capacity to fight back.
"It kind of broke my heart when I saw it. I still can't get it out of my head because it wasn't in a movie. It was real life."
In response, Mr Trump tweeted that Streep was a "Hillary flunky".
He added: "For the 100th time, I never 'mocked' a disabled reporter (would never do that) but simply showed him 'groveling' when he totally changed a 16 year old story that he had written in order to make me look bad. Just more very dishonest media!"
Malina's tweets
Meanwhile, Scandal and West Wing actor Josh Malina had some fun on Twitter yesterday as he enraged many of his followers who misunderstand his jokey tweets about Streep's acting.
Referring to the actress's prolific career, Malina tweeted: "My problem is she has no range. Same role, over and over."
He also compared Streep's heavy drama Doubt with the lighter, comedic The Devil Wears Prada, suggesting: "Large portions of Prada appear in Doubt unchanged."
Some of Malina's followers were outraged at his comments, although many also pointed out that he was being sarcastic.
Follow us on Facebook, on Twitter @BBCNewsEnts, or on Instagram at bbcnewsents. If you have a story suggestion email entertainment.news@bbc.co.uk.