£2.5m Royal Albert Hall box 'could spark bidding war'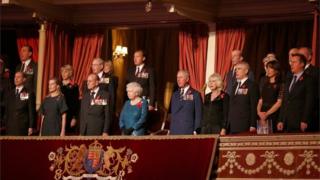 A bidding war could erupt for a private box in the Royal Albert Hall, pushing it over the £2.5m asking price, the agent handling the sale has said.
The 12-seat Grand Tier box - five boxes along from the Royal Box - is said to have attracted "strong" interest.
The seats offer one of the best views of some of Britain's most celebrated concerts, including the BBC Proms and the Royal Variety Performance.
It is the first time in a decade a box of this size has been put up for sale.
The box comes with an 849 year lease, the same as that on the Royal Albert Hall.
It is likely to offer a buyer a sizeable return, should they choose to sell it on in the future, estate agent Nicholas Shaw said.
In 2011, a five-seat box sold for £555,000. Two years later, a similar five-seater sold for over £1m.