Lena Dunham happy cellulite not airbrushed for Glamour cover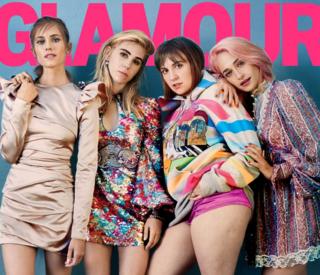 Lena Dunham, the writer and actress behind HBO series Girls, has praised women's magazine Glamour for not airbrushing an image of her on its cover.
"Thank you to @glamourmag for letting my cellulite do the damn thing on news stands everywhere today," she wrote in an Instagram post.
She appears on the magazine's February issue, said to be 100% produced by women, with Girls co-stars Allison Williams, Zosia Mamet and Jemima Kirke.
Ms Dunham said she was proud to have her thigh "on full imperfect display" on the cover of a magazine read by millions of women.
In her teens she was often told she was "funny looking", she writes. "Potbelly, rabbit teeth, knock knees - I could never seem to get it right and it haunted my every move. I posed as the sassy confident one, secretly horrified and hurt by careless comments and hostility. Let's get something straight: I didn't hate what I looked like - I hated the culture that was telling me to hate it."
Lena Dunham: 'I never want to be retouched again'
While she is known for baring skin on television, Ms Dunham complained about the way the decision to show her body was received.
"When my career started, some people celebrated my look but always through the lens of "isn't she brave? Isn't it such a bold move to show THAT body on TV?"
Ms Dunham is one of a long list of female celebrities who have taken issue with the use of Photoshop to airbrush pictures of women in magazines and film posters.
Earlier this year she complained that a Spanish magazine had used "mad Photoshop" on a photo of her, but later backed down after the magazine said it did no such thing and it was an image approved by her publicist.
In response, she said she had a "long and complicated history with retouching".
---
What is cellulite?
Cellulite is a permanent change in the fat stored under the skin and it is inevitable in most women.
As the fat cells enlarge with age, they push through the connecting fibres, which stay the same size, giving the effect of a balloon being blown up through a string vest. The dimples on the outer skin are the fat cells emerging through.
Cellulite affects people of all sizes because everyone has fat cells. Men can develop cellulite but it's not as visible because their network of fat cells is deeper in the skin, their fat distribution is different and the hair can cover it up.
---