Rocky - the man behind the theme tune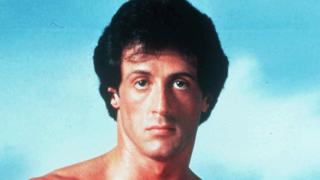 On 1 January 1977, Rocky was released at UK cinemas. Sylvester Stallone wrote and starred in the story of an underdog unexpectedly given a shot at the world heavyweight boxing title. Three months later it would beat Taxi Driver, Network and All The President's Men to win Best Picture at the Oscars.
That summer, the theme tune Gonna Fly Now, with its famous trumpet introduction, would top the US charts. On the 40th anniversary of Rocky, the film's composer Bill Conti, speaking from Los Angeles, told us his 10 favourite facts about the film and its famous theme.
---
1. He was third choice composer
"Two people before me had turned down this job of writing a film score to a movie that didn't cost $1m. There was no money for anyone. I embraced the $25,000 package deal. I had to pay for everything involved with the music; the paper, the musicians, the studio costs, the tape and I got what was left. Established composers thought: 'I don't want to take that chance.'"
2) The vocals to the theme were recorded for free by people on their lunch break
"My wife was working as a secretary at a radio station here in LA called KHJ. I asked her: "Do any boys or girls in your office sing? Because I got a song here with a few lyrics. Not very much. 'I'm getting strong now' - silly lyrics. She said, 'I'll ask'. So she came over on her lunch break with her office mates and they sang the track to Gonna Fly Now. Did they get paid? Absolutely nothing. They grabbed a sandwich and went back to work."
3) The whole score was recorded in three hours
"In one three-hour session in Hollywood we recorded the score to Rocky. There were 39 musicians and six trumpet players."
4) Originally the theme was only 90 seconds long
"There was this moment where Rocky was to be training for the big fight. The director John Avildsen said: 'Bill, I need a minute and a half's worth of music,' because it is easier to cut film in a montage if there is a beat. So I said: 'Sure'. Now John had shot about five miles of film; running up the stairs, training with the medicine ball, doing push-ups, so he says: "I need another 30 seconds." Then: "Could I get another 30 seconds?" So in other words we started patching together three minutes of music in 30-second increments, until we got there. So did I sit down and have the inspiration? Well, not really. It was pieced together to do a training montage.
5) The theme contains only 30 words, eight of which are "now" and four of which are "fly"
Avildsen said: "He's jumping up and down. Can't we say something about this?" I said: "It's your movie. You can say anything you want." We had two girls (Carol Connors, who sang the vocals on the Teddy Bears' 1958 US number one To Know Him Was To Love Him, and Ayn Robbins), who were writing source music - original material played on the radio in the film. We gave it to them and let them write lyrics and they did. 'He's getting strong now. It looks like he's going to fly.' Silly stuff.
6) The famous shot of Rocky at the top of the Philadelphia Art Museum steps is shown backwards
"Let's go to school on that iconic shot, where he's jumping up and down. In its original form it is a big, old, wide shot pushing in on Sly. And I say: 'Oh no. This is the big ending. It has to be going out to the big wide shot, (to give it) that expansive feeling. What they filmed was just the opposite. Now the camera's beginning on him and going out.
"If you look very closely at that last shot of him jumping up and down, you will see it looks like he is throwing karate moves, because it is backwards. Instead of punches he is pulling his hands back, but the shot is going wider and wider. So emotionally you are going: 'Wow. Look at that.' But it is all wrong."
7) The final scene of the film was shot in close-up, not for artistic reasons, but to hide the total lack of a crowd
"The script ends with Rocky losing the fight and then Rocky and Adrian go outside - them holding hands in the windswept Frank Capra-like parking lot, after the fight, after everyone went home - a silhouette, a beautiful shot. I said: 'No, you can't end the movie like that, because I wrote this piece of music. Listen to what happens at the end of the movie. The movie is over. It should end in the ring.'
"At the very first screening, at the end of the fight, John Avildsen jumps up and says: 'And then this happens and that happens.' The producers said: 'Where is it?' But we hadn't shot it. We didn't have any money.
"So we all went back to a place called the Olympic auditorium. With one hand-held camera for close-ups. There was nobody there. Tight shots. 'Rocky! Adrian!' Pauley lifts up the rope. She climbs in. 'I love you. I love you too.' That was a re-shoot."
8) Bill Conti had never seen a boxing match before working on Rocky
"John Avildsen and I had never seen a fight live, so we watched slow motion footage of boxers and played Eroica Symphony of Beethoven and said, 'It's like a ballet.' After the film I had to go to fights in Vegas, as all the Rocky people ended up being invited. I went to a Sugar Ray Leonard v Thomas Hearns. Would I go now? It's a lot of trouble."
9) Bill Conti was not the first person to have a hit with the theme tune
When the film opened I was making a film in Munich. My wife refused to see Rocky as it was a fight movie. She called me on the phone and said: 'That little fight film, I think it's doing the business. Come home in a month or two.' Meanwhile, Maynard Ferguson, a tremendous trumpet player, had a hit record with my song. So I went up to United Artists and said: "Anybody interested in the soundtrack album?'"
10) He has never run whilst listening to the Rocky theme
"No. No. No. Although Barbra Streisand has. I was nominated for an Academy Award (best song). I was conducting the orchestra that year. She was singing her song Evergreen and was standing on the podium rehearsing and she said: 'You know, every morning I run to your song and it really gets me up.' I said to my wife: 'Isn't it really interesting that Barbra Streisand really gets off on my song? I hope she loses.' She won."
Hear the full Bill Conti interview with Colin Paterson on Radio 5live from 2200GMT on Saturday 24 December.
Follow us on Facebook, on Twitter @BBCNewsEnts, or on Instagram at bbcnewsents. If you have a story suggestion email entertainment.news@bbc.co.uk.