Strictly Come Dancing: What's next for winner Ore Oduba?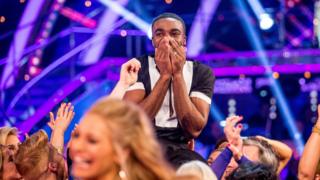 Spending time with his family will be top of Strictly Come Dancing winner Ore Oduba's Christmas list this year.
After winning the 2016 series on Saturday, the BBC sports presenter said he "cannot wait for Christmas" and will enjoy a holiday with his wife Portia.
Oduba, who had no previous dance training, beat Danny Mac and Louise Redknapp in the show's grand final.
He claimed the glitterball trophy with dance partner Joanne Clifton, who will now be rehearsing for a musical.
Speaking shortly after their win, 30-year-old Oduba said: "It doesn't make any sense to us right now, I cannot believe it, we did not even consider this, not even for a single week.
"What's next? Christmas, I cannot wait for Christmas. I've neglected my family, same for Jo, we've been so hard-working."
Oduba added: "My wife Portia's supported us so much, and just been my absolute anchor.
"And my mum and dad just being here - they've sacrificed so much, both of our parents have sacrificed so much for us in our lives - so for them to be here and see this, the most unexpected moment of my life, is just incredible."
Clifton competed against her older brother Kevin, a fellow professional dancer on the programme who was partner to Redknapp.
It was the fourth final for Kevin, who is yet to secure a win, but Joanne said she was grateful he had been by her side when she won.
She said: "I mean, he's my older brother and I just said sorry to him because he's made four finals and he's never won it yet, and to get that reaction from him...
"I was away from my family for 14 years living in Italy and I didn't see him that much, and since I've come back he's been a big brother to me again."
Presenting or dancing?
During the televised final, presenter Claudia Winkleman said she didn't know how Oduba would be "going back to the football field, but we'll see", joking: "There's a swimming gala in Hull next week - good luck with that."
But Oduba has insisted he is not giving up sports presenting, even though he now thinks he will dance for the "rest of his life".
He said: "I'm not giving up anything. In fact, it's just been the best thing to acquire the ability to dance.
"It's just going to be a thread through my life, for the rest of my life - I can't think of a time when I will not be dancing now. It is in me now, I can't not dance."
Many of this series's contestants will be reunited for next year's Strictly Come Dancing tour, which will begin in Birmingham on 20 January.
Oduba said of the tour: "We don't get to see the fans who've been so supportive of us on this journey, so to be able to go out and show it to people in January through to March will be amazing because they love this show.
"You've seen from the figures, from the reaction, from everybody just how much they love Strictly.
"To be able to go out on the 10th anniversary of the tour - Len will be there, we're going to give him another swansong - it's going to be exceptional and I can't wait."