Cumberbatch gives Sherlock producer Vertue top TV award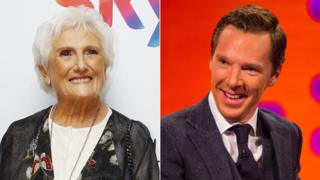 Benedict Cumberbatch has given Sherlock producer Beryl Vertue a lifetime achievement prize at the Women In Film and TV Awards.
Vertue, who is executive producer of the hugely successful show, was honoured for her contribution to television, in which she has worked for more than 50 years.
Her other shows including Up Pompeii, Steptoe And Son and Men Behaving Badly.
Sherlock star Cumberbatch said it was an "absolute honour" to give the prize.
'True legend'
"We have known each other a long time and not only have I had the pleasure of working with her, but I'm very lucky to know her and call such a brilliant woman my friend," he said at the London ceremony.
Vertue said she felt "rather proud", adding that the awards were "wonderful because there a lot of clever women and a lot of them are behind-the-scenes people, and this is their way of being recognised. I like that and they've been chosen by their peers".
She is founder and chair of the independent television production company Hartswood Films, which makes Sherlock.
The awards' chief executive Kate Kinninmont said Vertue was a "true legend", adding: "We have seen some fantastic women achieving great things this year and the diverse range of winners is testament to that."
BBC political editor Laura Kuenssberg was given the news and factual award by former shadow chancellor and Strictly Come Dancing competitor Ed Balls.
Oscar-winning visual effects supervisor Sara Bennett, who won an Acadamy Award last year for Ex Machina, was given the creative technology award.
Diver Tom Daley gave broadcaster Gabby Logan the UK presenter award, while actress Sarah Lancashire won the best performance award.
Other winners included Suffragette director Sarah Gavron, who won the director award, while Julia Davis won the creative skillset writing prize.
Here is the list of winners in full:
The Barclays business award - Amanda Nevill
The technicolor creative technology award - Sara Bennett
The Panalux craft award - Carolina Schmidtholstein
The Envy producer award - Tania Alexander
The NEP UK presenter award - Gabby Logan
The film finances project management award - Tarn Harper
The FremantleMedia UK new talent award - Michaela Coel
The ITV Studios achievement of the year award - Beryl Richards
The Deluxe director award - Sarah Gavron
The creative skillset writing award - Julia Davis
The MAC best performance award - Sarah Lancashire
The BBC News and factual award - Laura Kuenssberg
The Argonon contribution to the medium award - Nina Gold
The EON Productions lifetime achievement award - Beryl Vertue