Damien Chazelle on La La Land's 'challenging' opening
SPOILER ALERT - This article discusses the opening scene of La la Land.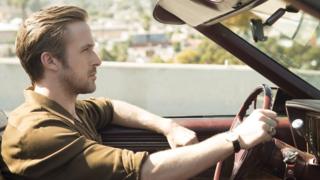 It's a rare thing in cinema for a film to receive a round of applause even before its titles appear. But that's what has been happening at early screenings of Oscar-tipped musical La La Land.
The film stars Ryan Gosling as a jazz pianist and Emma Stone as an aspiring actress who are both chasing dreams of stardom in Los Angeles.
So why the amazing reaction to the opening scene when the pair have their first encounter?
It's all down to the jaw-dropping song and dance sequence that takes place in a traffic jam on a Los Angeles freeway.
"That was up there with the most challenging things I've done," the film's director Damien Chazelle tells the BBC.
'Everything came together'
The sequence involved more than 100 dancers in a complex routine that weaves in and out - and on top of - a long queue of stationary cars and trucks.
It was filmed on a "brutally hot" weekend on a closed road ramp in LA - while the city's real traffic continues to flow on a freeway in the background.
But after days of intensive rehearsals on boxes in car parks, the actual shoot didn't go entirely to plan.
"At times like that you're just lucky you have a great crew," Chazelle says.
"All these little things seemed to go wrong. As we were shooting, clouds came to cover the sun, a truck door wouldn't open - but everything came together at the end."
Co-producer Fred Berger admits it was a tough sequence.
"There were many weeks of preparation leading up to that and then it turned out to be one of the hottest weekends on record."
On screen, the scene looks like it was shot in a single take.
"It was shot over two days," Chazelle explains, "And the result is about three takes stitched together. It was fun - but it was a challenge."
La La Land is Chazelle's follow-up to his 2014 film Whiplash. The drama about a young jazz drummer won three Oscars, including best supporting actor for JK Simmons, as well as awards for its sound mixing and film editing.
Since premiering at the Venice Film Festival in August, La La Land is being talked up as a major contender at next year's Academy Awards.
It won the People's Choice award at the Toronto International Film Festival in September, which in the past has proved to be a decent predictor for Oscars success.
Chazelle wrote the script six years ago but was not able to persuade anyone to produce it until he made his name with Whiplash.
He says his aim with La La Land was to give a new twist to an old genre.
"I grew up loving those old Hollywood musicals, and what I wanted to do was to take that form of film-making we think of as old fashioned and see if it could be updated and revived for today."
The film goes on limited release in the US on 9 December (with a wider release on 16 December) and opens in UK cinemas on 13 January.
---
Follow us on Facebook, on Twitter @BBCNewsEnts, or on Instagram at bbcnewsents. If you have a story suggestion email entertainment.news@bbc.co.uk.