Amadeus: National Theatre revival strikes the right note with critics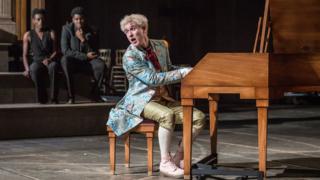 The return of Amadeus to the National Theatre has struck the right note with critics.
Michael Longhurst's new production of the play about Mozart has gathered mostly four and five star reviews.
The Telegraph's Dominic Cavendish described it as "a note-perfect production".
Peter Shaffer's play had its premiere at the National Theatre in 1979, winning multiple awards before being adapted into an Oscar-winning film.
The latest revival stars Lucian Msamati as Salieri, the court composer consumed with obsessive jealousy at the genius of Wolfgang Amadeus Mozart, played by Adam Gillen.
It also features a live orchestral accompaniment by Southbank Sinfonia.
The Telegraph's five-star review described it as "a fresh, vital and musically inventive new reading, one which fully confirms its classic status".
Also awarding five stars in The Stage, Natasha Tripney said of Gillen's Mozart: "He's part Violet Elizabeth Bott, part Rik from The Young Ones as channelled by Gene Wilder at his most fevered and strange; a lisping, lurching, human punctuation mark, a man-brat in gold knickerbockers and sugar pink DMs with a laugh like a particularly tipsy hyena."
Msamati, she added "while inevitably less extreme, also gives a performance of power and size".
The Guardian's Michael Billington described Amadeus as an "epic piece of music-theatre".
"It comes complete with 16 actors, six singers and the 20-strong Southbank Sinfonia and, while occasionally overblown, it reminds us of Shaffer's talent for creating memorable theatrical spectacles," he wrote in his four-star review.
In the Evening Standard, Henry Hitchings said: "Occasionally too fussy and not always sure-footed, it's packed with modern touches that don't add much - a tray of American doughnuts, mobile phones, Mozart wearing Doc Martens.
"But when it sings, its voice soars."
Matt Trueman, awarding four stars in his Whatsonstage.com review, said the play was, at times, "literally breathtaking".
He wrote: "Its visual beauty holds you in suspense, then the music cuts through and the world seems to stop: the trills of The Magic Flute, the basso boom of Don Giovanni.
"Part of the play's brilliance is in letting us into the music: Salieri's descriptions are like little tutorials, deconstructing the music to let us listen like experts."
Amadeus is at the National Theatre until 2 February. It will be broadcast at cinemas across the UK on that night as part of NT Live.
---
Follow us on Twitter @BBCNewsEnts, on Instagram, or if you have a story suggestion email entertainment.news@bbc.co.uk.