Christopher Biggins cleared by Ofcom over Big Brother bisexual comments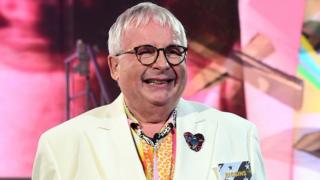 Comments about bisexuality made by Christopher Biggins on Channel 5's Celebrity Big Brother have been found not in breach of broadcasting rules.
Forty-four people complained to Ofcom about the 1 August episode.
Biggins had said: "The worst type though is, I'm afraid to say, the bisexuals... what it is is people not wanting to admit they are gay."
Ofcom said the comments could cause offence but were likely to be within the audience's expectations.
The openly gay actor was removed from the Big Brother house a few days after his views were aired.
The show's producers said they took the decision because he had made "comments capable of causing great offence".
The 67-year-old was warned three times by Big Brother over the comments.
The final incident involved a conversation where he said Aids was "a bisexual disease".
After he was removed from the house, Biggins said he was he was "very sorry and very sad".
Medical condition
Meanwhile, BBC One's DIY SOS: The Big Build, is being investigated over comments made by presenter Nick Knowles.
In an episode shown on 29 September, Knowles made comments to female designer Julia Kendell including: "Fighting talk from Kendell there, who used to be a boxer when she was a man."
An Ofcom spokesperson said: "We're investigating whether comments made by a male presenter were justified by the context of the programme."
Six complaints suggesting Knowles' comments were offensive were received in relation to the episode.
Two complaints were also made to the regulator about a segment on ITV's Good Morning Britain, which Ofcom is also looking into.
An Ofcom spokesperson said: "We're investigating whether the broadcaster took due care of a four-year-old girl, when featuring her in the programme which discussed her medical condition."
ITV featured the girl, who has early-onset puberty, in a live interview with her mother on 15 September. The girl appeared to be trying to hide her face throughout the segment.
---
Follow us on Twitter @BBCNewsEnts, on Instagram, or if you have a story suggestion email entertainment.news@bbc.co.uk.