Leslie Jones hits out at hackers and trolls in SNL sketch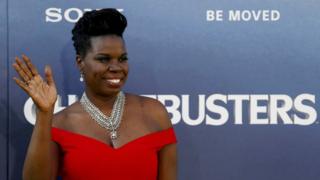 American comedian Leslie Jones ridiculed the hackers who released intimate photos of her, during a sketch on Saturday Night Live (SNL).
The Ghostbusters star, who has been subjected to racist online abuse, had her private photos and documents posted online in August.
But she told SNL's television audience the attacks were "nothing".
"At a certain point you stop being embarrassed and start being you," she said.
Jones, who is a regular cast member on the show, addressed the topic passionately during the "weekend update" segment.
"All they did was release some nude pics of me - which is nothing, because, I don't know if you all know this about me, but I ain't shy," she said.
"I am very comfortable with who I am. I am an open book," she said, before telling anyone who wanted to see her naked to "just ask".
The actress - who briefly quit Twitter over the summer after receiving racist abuse - said that hurting someone "these days" takes much more than calling them names.
"Do you think some words on the internet can hurt me? I once had a crazy bitch try to beat me with a shovel at a bus stop because I took her spot on the bench."
Jones said that "at a certain point you stop being embarrassed and start being you. And I have been me for 49 years.
"The only person who can hack me is me. And my firewall is a crazy bitch with a shovel."
The stand-up comedian was widely praised on social media for "taking control" of the controversy, partly by sharing embarrassing anecdotes from her childhood.
On Twitter, the editor of TVline.com said: "that may've been Leslie Jones' finest #SNL moment."
"Seriously though, Leslie Jones has been through a lot of BS in her life, and the fact she is open about it all is inspiring," another viewer tweeted.
Jones also tweeted photos of herself posing with Tom Hanks and Lady Gaga, who were guests on the show, and said, cryptically, Lady Gaga "did something for me tonight I will never forget."