Emmys respond to Clinton/Trump 'rigged' remark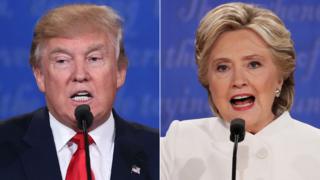 The body that organises the Emmys has spoken out after Hillary Clinton accused Donald Trump of claiming the annual television awards were rigged.
The US Television Academy tweeted an infographic outlining its procedures after Trump's criticisms were re-aired.
During the debate, Clinton remarked that Trump had attacked the Emmys because his Apprentice show had lost "three years in a row".
"Should have gotten it," her opponent responded in their last TV face-off.
Trump has never accused the Emmys of being fixed, but he did say they had "no credibility" after they gave an award to The Amazing Race in 2012.
"The Emmys are all politics," he wrote in another post that year. "That's why, despite nominations, The Apprentice never won - even though it should have many times over."
Wednesday's debate in Las Vegas was the third televised confrontation between the Republican and Democrat presidential nominees.
During the debate, Clinton brought up The Apprentice's Emmy record after Trump refused to commit to accepting the election result were he to lose.
"Every time Donald thinks things are not going in his direction, he claims whatever it is is rigged against him," she said.
"There was even a time when he didn't get an Emmy for his TV programme three years in a row and he started tweeting the Emmys were rigged against him."
In 2004 and 2005 The Apprentice was denied the award for outstanding reality-competition programme, losing on both occasions to The Amazing Race.
In 2006 the programme was nominated again, this time for its cinematography, only to miss out once more to the globe-trotting contest show.
Trump has made reference to the snub on several occasions since, dubbing The Amazing Race a "piece of crap" in an episode of The Apprentice last year.
"I got screwed out of an Emmy," he was heard saying in an episode broadcast last January. "Everybody thought I was going to win it.
"And then they announced the most boring show on television" - the name of which was beeped out when the show was broadcast.
The reference to Trump's long-standing beef prompted contradictory responses from both Julia Louis-Dreyfus and her former Seinfeld co-star Jason Alexander.
"The Emmys are NOT rigged," wrote the former, who has won the outstanding lead actress in a comedy series for the last five years for her political satire Veep.
Alexander, in contrast, joked that he "KNEW the Emmys were rigged", having missed out on an award at seven consecutive ceremonies for his Seinfeld role.
The US actor has in fact missed out on eight occasions, having also been denied the award for outstanding guest actor in a comedy series in 1994.
Others to have commented include television producer Greg Berlanti, who made reference to Alec Baldwin's impersonation of Trump on Saturday Night Live.
"The closest Donald Trump will ever get to an Emmy is when Alec Baldwin wins one for playing him," tweeted the executive producer of Supergirl and Arrow.
---
Follow us on Twitter @BBCNewsEnts, on Instagram, or if you have a story suggestion email entertainment.news@bbc.co.uk.