Doon Mackichan speaks out against 'crime porn'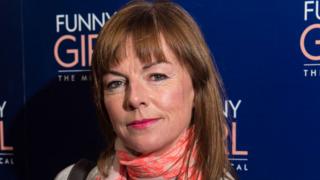 Actress Doon Mackichan has spoken out about the prevalence of rape and sexual violence in contemporary TV drama.
In a documentary aired on BBC Radio 4, the Smack the Pony star claims stories about "brutalised women" have become "entertainment fodder".
Dramas like The Fall, she suggests, are part of an "industry" built on "rape and the ritualistic murder of women".
The show features an interview with a young actress who says she now regrets playing a rape victim on screen.
'Sophie' said her character's rape in the unnamed drama was used as "a shock device" she now feels was gratuitous "titillation".
In an interview for Radio 4's Seriously... podcast, Mackichan said recording the interview had left both her and 'Sophie' "in floods of tears".
The actress also admits that re-watching BBC Two's The Fall in preparation for the programme "had given her nightmares".
The Fall, now in its third series, tells of a serial killer, played by Jamie Dornan, who torments and rapes his victims before murdering them.
Screenwriter Allan Cubitt is heard justifying the violence in Mackichan's documentary, saying he wished to neither "sensationalise" or "sanitise" it.
Mackichan admits The Fall - also starring Gillian Anderson - is "exciting television", but says it is nevertheless "irresponsible" for perpetuating overused stereotypes.
"We do have a lot of what I call crime porn," she continued. "I'd like there to be a real sea change... because it bleeds into our culture.
"The onus is with commissioners who commission these programmes, and with screenwriters... who are pandering to the appetite that has been created."
Alison Graham of the Radio Times is another to have spoken out recently against "graphic portrayals of brutality towards women".
"Using a savage murder of a woman as an attention-grabbing plot device... is too much," she wrote in reference to ITV drama Paranoid.
Body Count Rising can currently be heard on the BBC iPlayer. The next edition of Radio 4's Seriously... podcast is available on Tuesday.
Follow us on Twitter @BBCNewsEnts, on Instagram at bbcnewsents, or if you have a story suggestion email entertainment.news@bbc.co.uk.