The Archers: Verdict revealed in Helen Titchener trial
WARNING: This story contains spoilers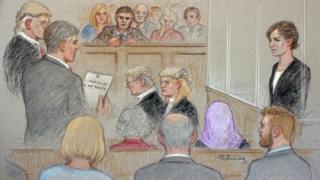 The Archers' Helen Titchener has been found not guilty of attempting to murder her abusive husband Rob.
Millions of listeners to the BBC Radio 4 soap were expected to tune in as the fictional trial drew to a close with the jury's verdict.
The high-profile domestic abuse plot culminated in the first hour-long episode in the show's 65-year history.
A star cast of jurors, including Dame Eileen Atkins and Catherine Tate, were heard deliberating Helen's fate.
After a week-long trial, the jury at Borchester Crown Court also found her not guilty of wounding with intent over the incident, in which Rob was stabbed.
Discharged from the court room following the majority verdict, Helen had an emotional reunion with her parents.
Her mother Pat told her: "You're a survivor, all right. You didn't deserve any of this - that's what the jury decided, remember that."
But moments later, Helen was confronted by Rob. "Congratulations Helen, you must be chuffed with yourself," he said.
Issuing a chilling warning, he added: "You might have fooled everyone else but you haven't got rid of me - and as long as we have a child together you never will."
She replied: "The whole world knows what you are now Rob... You've failed, I'm free."
A family court hearing has been set for 14 September, where the custody of Helen's two sons - Henry and Jack - will be decided.
National debate
The fictional stabbing followed Rob's long-term emotional abuse of Helen - which had been slowly drip fed to listeners of The Archers over two and a half years.
The much-debated storyline portrayed by actors Timothy Watson and Louiza Patikas has gripped listeners, sparked a national debate about domestic violence and a flood of donations to the women's charity Refuge.
The verdict prompted thousands of comments on social media, including a Tweet from the shadow justice minister, Jo Stevens, who wrote: "Absolute applause to @BBCRadio4 @BBCTheArchers for brilliantly scripted/acted story of DV (domestic violence) and women in prison".
The plot was inspired by a new law against "coercive or controlling behaviour" in relationships, with writers consulting lawyers, charities and abuse survivors to get the details right.
The relationship between organic cheesemaker Helen Archer and farm manager Rob Titchener began in 2013, leading to marriage and a baby.
Avoiding the standard depiction of abuse as daily physical violence, the drama centred on his systematic undermining of her personality.
For the gentle soap opera set in the fictional English village of Ambridge, the storyline has proved a sensational departure from the cosy country life usually depicted.
'I feel relieved'
Patikas said: "I feel relieved - the secret's out.
"Finally I can talk to friends and family about it and I'm really intrigued to see what the public makes of the verdict."
She said she was looking forward to rebuilding Helen, who may take her time processing the implications of the verdict.
"I hope that she'll soon get back behind the wheels of her car and start some therapeutic cheese-making when she feels up to it."
The actress, who met survivors of domestic violence in preparation for the role, said she hoped anyone listening to the programme who was experiencing domestic abuse would find the courage to get help.
More than 7,500 people have supported a JustGiving fundraising page for the women's charity Refuge set up by fan Paul Trueman, "because for every fictional Helen, there are real ones".
With more than £150,000 raised so far, Sandra Horley, chief executive of Refuge, said: "Never before in my 33-year career at Refuge have I seen such amazing public support for our work."
'Not the end'
Programme editor Sean O'Connor said while he was aware the storyline was controversial, he had been "surprised by the intensity of the reaction to it and how it has inspired a national debate about a previously hidden issue in British culture".
Mr O'Connor added: "In many ways, while this is the climax to the story it's not the end of the story - because Helen and Rob are still married, they have two children, one of whom they share together...
"In many ways this story could be a 20 or 30-year story - as long as Helen and Rob share that child between them."
Helen's verdict was kept a strict secret on the show, Mr O'Connor said.
"We just made an agreement we wouldn't tell anybody, it was very old-fashioned, it was all hush hush."
The Archers was first broadcast in five pilot episodes in 1950, in the hope of educating farmers about modern agricultural methods to help feed a Britain still subject to food rationing.
Some five million people listen to the show, which is broadcast in six episodes a week.
The Archers Jury Special will be available on iPlayer
Follow us on Twitter @BBCNewsEnts, on Instagram, or if you have a story suggestion email entertainment.news@bbc.co.uk.