The Archers: Court artist Julia Quenzler sketches Helen's trial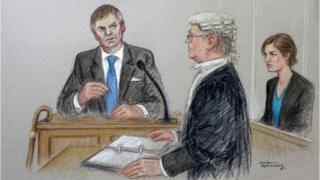 BBC Radio 4 has enlisted one of the UK's leading court artists to sketch the fictional trial in The Archers.
Julia Quenzler has provided media outlets with drawings from cases involving Harold Shipman, General Pinochet and Rolf Harris.
She will now depict the trial of Helen Titchener, which begins on air later.
In the week-long trial, Helen will face charges of attempted murder and wounding with intent after stabbing her husband Rob.
It has spawned the social media hashtag #freehelen.
The stabbing in April was the culmination of a long-running domestic abuse storyline that gripped listeners.
The first mock court sketch to be released shows Rob (played by Timothy Watson) giving evidence, with Helen (Louiza Patikas) in the dock.
More of Quenzler's drawings will be released during the week on The Archers website and social media accounts.
Quenzler, who has been a court artist for 30 years said, the process had been "fascinating".
On Rob's abusive behaviour, she said: "I can't let that influence me at all. I was basing his appearance on the actor's photograph but also the script.
"I was reading the script and noting his reactions, the tone of his voice, imagining what he would be doing with his hands while he was in the witness box."
The process had been very different from drawing a real trial, she said.
"In this case, having to work from a script, I was working from imagination. I was given a few photographs of the actors but I was reminded that obviously many listeners have conjured up their own image of how each character looks."
She told BBC Radio 5 Live the only exception was Helen: "She has recently had a very short haircut and also lost weight so I did slightly alter her appearance."
Quenzler also revealed she had to tell friends she was working on a secret project, as she was sworn to secrecy over the outcome of the trial.
Creating the court sketches also took far longer than usual.
"Normally I will leave the court room after 15 minutes, then I take my notes off to a press room where I can work on my drawing. I usually have about an hour to work on it, and then it will be ready to be filmed for the lunchtime news.
"These took quite a lot long longer because of the research and referring back to the script."
New abuse law
The Archers storyline on domestic abuse has helped highlight the kind of controlling or coercive behaviour targeted by new laws, a leading prosecutor has said.
Siobhan Blake, chief crown prosecutor for Mersey-Cheshire, said: "I think this storyline has really gone some way to demonstrate the way that this type of abuse builds over a continuous time and repeats.
"I think it will give the public quite a good understanding of the sort of behaviours that this offence is trying to target."
At the end of last year a new domestic abuse law came into force targeting people who subjected spouses, partners and family members to repeated or continuous controlling or coercive behaviour.
The law also covers when the abuser monitors the victim on social media or spies on them online.
Offenders can face up to five years in jail.
The Archers Trial Week starts on BBC Radio 4 at 19:00 BST on Sunday and episodes will be available online after broadcast.
---
Follow us on Twitter @BBCNewsEnts, on Instagram, or if you have a story suggestion email entertainment.news@bbc.co.uk.