Robert Downey Jr teams up with True Detective creator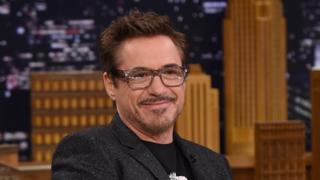 Robert Downey Jr is in talks to team up with True Detective creator Nic Pizzolatto on a HBO project, according to reports.
Variety says it will be based on the Iron Man star's Perry Mason reboot, which he had been developing as a feature film at Warner Bros for several years.
It is thought it will be a short series, rather than a TV film.
1960s legal drama Perry Mason was one of TV's longest-running legal series.
The show, which starred Raymond Burr, was based on a character created by author Erle Stanley Gardner.
Mason is an unorthodox Los Angeles investigating criminal defence lawyer, and each episode focused on one client's murder trial.
Deadline report that the series could be ongoing with future seasons dependent on Downey Jr's availability.
There have been two series of True Detective - the first staring Matthew McConaughey was highly acclaimed but the second series disappointed critics.
It will be the first TV role for Downey Jr since comedy series Ally McBeal, starring Calista Flockhart, which he left in 2001.
He won a Golden Globe Award and a Screen Actors' Guild award for his performance as Ally's boyfriend in the hit show, but left after he was arrested for drugs offences.
Downey Jr is currently filming Spider-Man: Homecoming, reprising his role of Tony Stark/Iron Man.
It has also been announced he will star in a third Sherlock Holmes film.
---
Follow us on Twitter @BBCNewsEnts, on Instagram, or email entertainment.news@bbc.co.uk.