Oasis at Knebworth: 20 years since Britpop's biggest gigs
By Mark Savage
BBC Music reporter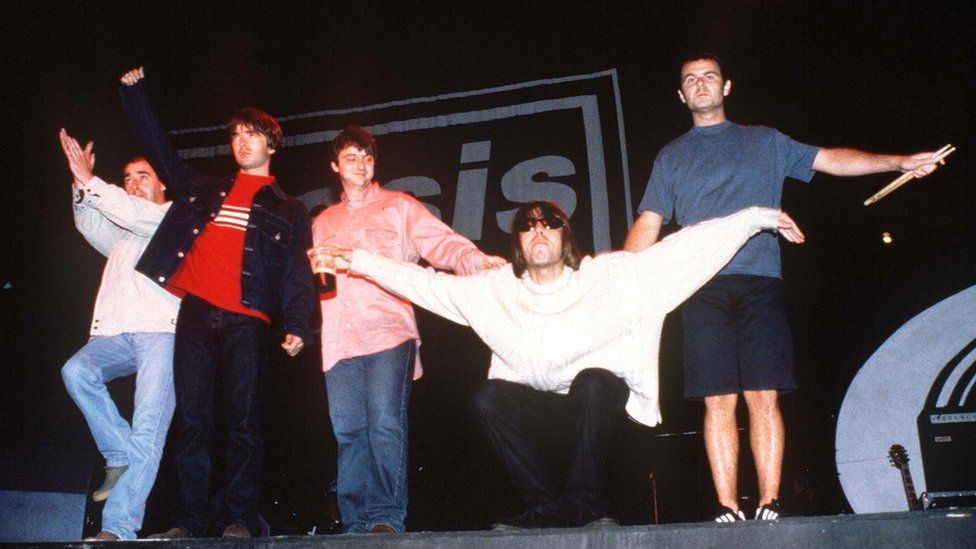 Twenty years ago today, Oasis played the first of two concerts at Knebworth in Hertfordshire, England.
They were the biggest gigs of their era. The crowning glory of Britpop. Incredibly, one in 20 Britons applied for tickets.
A quarter of a million eventually got to see Liam, Noel, Bonehead, Guigsy and Whitey as they confirmed their status as the most popular British band since The Beatles. (A status that was swiftly rescinded when the band released their overblown, coke-addled third album Be Here Now 12 months later.)
But, in that moment, it was hard to argue with Noel when he strode on stage and declared: "You're making history, you lot."
"I'll never forget the sheer scale of it," says Bonehead, AKA guitarist Paul Arthurs.
"We flew in from London by helicopter and sort of circled the site. It landed behind the stage but we were like: 'Let's just do a once round and take it all in.' I'll never forget it."
Not that conditions were completely idyllic. According to one report, singer Liam Gallagher was not too enamoured with the catering, screaming about the state of the sausages and flinging a handful of corn on the cob to the floor.
Bonehead also found it difficult to prepare, thanks to an inconsiderate support act.
"We stayed in these Winnebago, caravan things at the back of the stage," he tells BBC 6 Music.
"I remember thinking 'I'll just have a quick hour in bed before we go on', and the Prodigy came on. If you've ever tried to sleep 20ft from the stage when the Prodigy were on live? Forget that."
Sleep deprived or not, the band blew away the fans. "Hello, hello, hello. Let's go," said Liam, before launching into a gut-punching opening salvo of Columbia, Acquiesce and Supersonic.
Almost two hours later, they ended their set with a celebratory cover of The Beatles' I Am The Walrus, capped by a spectacular fireworks display.
But it was the ballads, tucked away in the second half of the set, that really brought the crowd together - 125,000 voices per night united for the choruses of Wonderwall and Don't Look Back In Anger.
Despite the band's later reputation for attracting a less refined crowd, the atmosphere was overwhelmingly good natured. In between support acts, the audience engaged in mock fights with empty paper cups, while police recorded only 10 arrests.
Attended by Kate Moss, Chris Evans and Mick Hucknall (who set tongues wagging by bringing along soap star Martine McCutcheon), the shows made headline news - but the importance was not immediately apparent to the musicians.
"It's weird," says John Power, whose band Cast were one of the support acts. "Sometimes these things, because you're involved in it, and because you see the bands all the time... it felt like it was just another a stepping stone to where this movement, or all these bands were going.
"Oasis were massive obviously. But I think, now, looking back on it, I don't think it could have got any bigger than that."
Always the most analytical member of Oasis, Noel Gallagher realised sooner than most that the band had peaked.
"I remember sitting there, at Knebworth, in the backstage area, and someone saying, 'Well, what now?' And I was like, 'I couldn't tell ya,'" he later told Uncut magazine.
"And that was how I felt for a good couple of years afterwards. I really suffered. It's like, what do you do when you've done everything? You kind of sink into boredom. Kind of directionless."
Looking back, Power agrees: "I think maybe that is the time where maybe [Britpop] started to slowly come down a bit, like.
"That doesn't mean there wasn't great performances going on and great music being made - but you can only contain so much fizz in a can before you've got to pop it."
For fans, however, Knebworth is a fond memory (even if the queues for the toilets and food stalls remain a nightmare).
The gigs were even enough to rile Liam's arch-enemy Robbie Williams into booking three nights at Knebworth, before allegedly asking Oasis to support him in a letter accompanied by a pair of tap dancing shoes.
Not everyone was so bowled over, though.
Matthew Wright, writing in The Mirror, called the shows "as flat as stale champagne", prompting a foul-mouthed phone call from Noel, who told him: "That's the last time you have anything to do with my [expletive] band."
Meanwhile, Henry Lytton Cobbold, who owns the Knebworth estate, has an altogether more unique perspective on the weekend's events.
"Amusingly, Noel Gallagher on Sunday morning, decided he wanted a bath, so he came up to the back door of Knebworth House, rang the doorbell and asked if he could have a bath," he recalls.
"My dad, who was in the house at the time, showed him up to the Queen Elizabeth bathroom - and brought him a bottle of champagne.
"I've since read him describe that he was served champagne by liveried servants, but it was actually my dad!
"He then wrote in the Knebworth House guest book: 'Noel Gallagher (clean!)'
"As an historic house with an archivist and a museum, those things now become part of our collection.
"I just wish we'd kept the soap."
You can hear more about Oasis's landmark Knebworth gigs on Steve Lamacq's BBC 6 Music show from 16:00 BST on Wednesday. The programme will conclude with a broadcast of the concert, as originally heard on BBC Radio 1 in 1996.