Rebel Wilson set for Dirty Rotten Scoundrels remake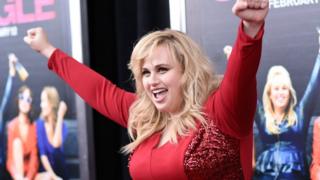 Rebel Wilson is to star in a remake of film comedy Dirty Rotten Scoundrels.
Steve Martin and Michael Caine appeared in the 1988 caper as conmen competing to swindle a wealthy young heiress.
Variety magazine said the new version would switch the genders with two women defrauding a naive tech prodigy.
The Australian actress tweeted: "The con is on!! I will be starring in a remake of Dirty Rotten Scoundrels for MGM." Her co-star has not yet been announced.
The news follows a remake of Ghostbusters in which the poltergeist-hunting lead characters were played by women.
Variety said Wilson is also set to appear in a remake of Private Benjamin.
Goldie Hawn was nominated for an Oscar for the 1980 original, in which she played a young woman from a wealthy family who decides to join the US Army.
Wilson has shot to fame in recent years thanks to roles in films including Bridesmaids and the Pitch Perfect franchise.
She is currently starring in Guys and Dolls on the West End stage, earning rave reviews.